If you're an avid sports fan, you'll be thrilled to know that Apple has introduced a new Sports tab in Apple News with the release of iOS 16.5. This tab allows you to easily access reports, scores, rankings, and other information about the teams and leagues you care about. You can even choose your favorite teams and leagues to get personalized news.
The iOS 16.5 update also comes with a new pride flag's rainbow colors wallpaper on the lock screen, which honors the LGBTQ+ community and culture in celebration of Pride Month 2023. Update also includes several bug fixes and enhancements for both iOS and iPadOS.
Sports tab in Apple News
With this new feature, you can easily keep track of your favorite teams and leagues, get personalized news, and access scores and schedules for upcoming games.
To get started, simply tap on the Sports tab in Apple News app. From there, you can choose your favorite teams and leagues by tapping on the "+" icon. Once you've added your preferred teams and leagues, you'll receive personalized news and updates about them.
The sports page in Apple News also provides additional information about specific sporting events. For example, if you click on a score or schedule card, you'll be taken directly to the sports page, where you can find more details about the game, including the teams involved, the location, and the time.
Sports tab in Apple News is a great addition for sports enthusiasts who want to stay up-to-date on the latest news and scores.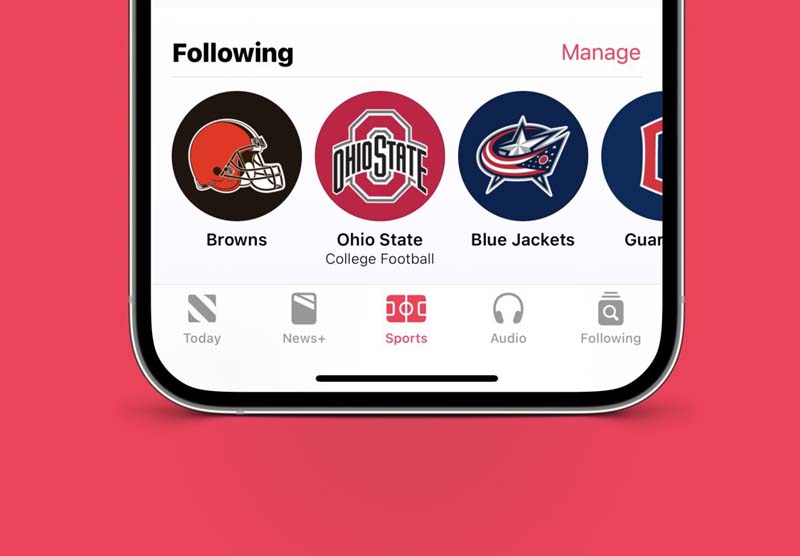 Original Pride Flag Rainbow Colors
In celebration of Pride Month 2023, Apple has introduced a pride flag's rainbow colors wallpaper for the lock screen. This wallpaper honors the LGBTQ+ community and culture and is a great way to show support for the community.
Fixed Issues with Focus and Screen Time
The iOS 16.5 update also fixes several issues with the Focus and Screen Time features. Specifically, it addresses an issue where Focus could become unresponsive and a problem where Screen Time settings might revert or not sync across all devices.
Podcasts in CarPlay
Another improvement in the iOS 16.5 update is better Podcasts performance in CarPlay. The update fixes an issue where Podcastsin CarPlay may not load content, ensuring that you can enjoy your favorite podcasts while on the go.
Security
iOS 16.5 update includes several security enhancements. According to Apple's official iOS security support document, the update fixes many vulnerabilities.
Of the three vulnerabilities, two were previously fixed by the iOS 16.4.1 and iPadOS 16.4.1 Rapid Security Response Updates. The remaining vulnerability was found in WebKit and allowed attackers to break out of the web content sandbox. Apple fixed this vulnerability by modifying the bounds check, ensuring that your device is more secure than ever before.
Battery Life
One of the most important factors for any iOS update is how it affects battery life and overall performance. After testing, Gizmoweek's found that the iOS 16.5 update doesn't have any abnormal battery drain or heating issues. In fact, it performs even better than the previous version, making it a reliable and stable option for users.
How to Upgrade to iOS
If you're ready to upgrade to iOS 16.5, the process is simple. Here's what you need to do:
Connect your device to a Wi-Fi network.
Tap Settings apps > General > Software Update.
Tap "Download and Install" and follow the on-screen instructions.
If you're an Apple Developer Program member, you can also enable Developer Previews directly from Software Update in Settings. This new option was introduced in iOS and iPadOS 16.4 betas and will be automatically enabled on devices that have enrolled in the program and updated to the latest beta version.
EDITOR PICKED: Apple's Foldable iPhone Inches Closer to Reality, Review Apple Patent of Foldable
Should You Upgrade to iOS 16.5?
The iOS 16.5 update brings more than just the Sports tab and Pride Month wallpapers, also addresses several bugs and security issues. With improved performance, battery life, and security, iOS 16.5 is a solid upgrade choice for iPhone users. So, should you take the plunge and update your device?
The general consensus is that iOS 16.5 offers a stable and reliable experience, making it an ideal choice for users who want to stay current with the latest features and improvements. Moreover, with iOS 17 just around the corner, it's a great opportunity to get your device ready for the next big update.