In a seismic shift, Apple today catapulted itself to the forefront of a nascent smart ring space, securing a patent from the United States Patent and Trademark Office (USPTO) for a finger-worn device that could rock the very foundations of personal computing interaction.
This avant-garde gizmo is no mere bauble. Through a series of swipes, twists, and gestures, the smart ring promises to unleash torrents of input to external devices from your fingertips. The patent depicts an inner and outer ring which can rotate independently or in tandem to intuitively control everything from MacBooks to AirPods.
Apple also demonstrates how different interaction methods can be used in conjunction with VR, AR, and/or MR systems for operation. Imagine using the iRing to control your virtual reality experience – the possibilities are endless!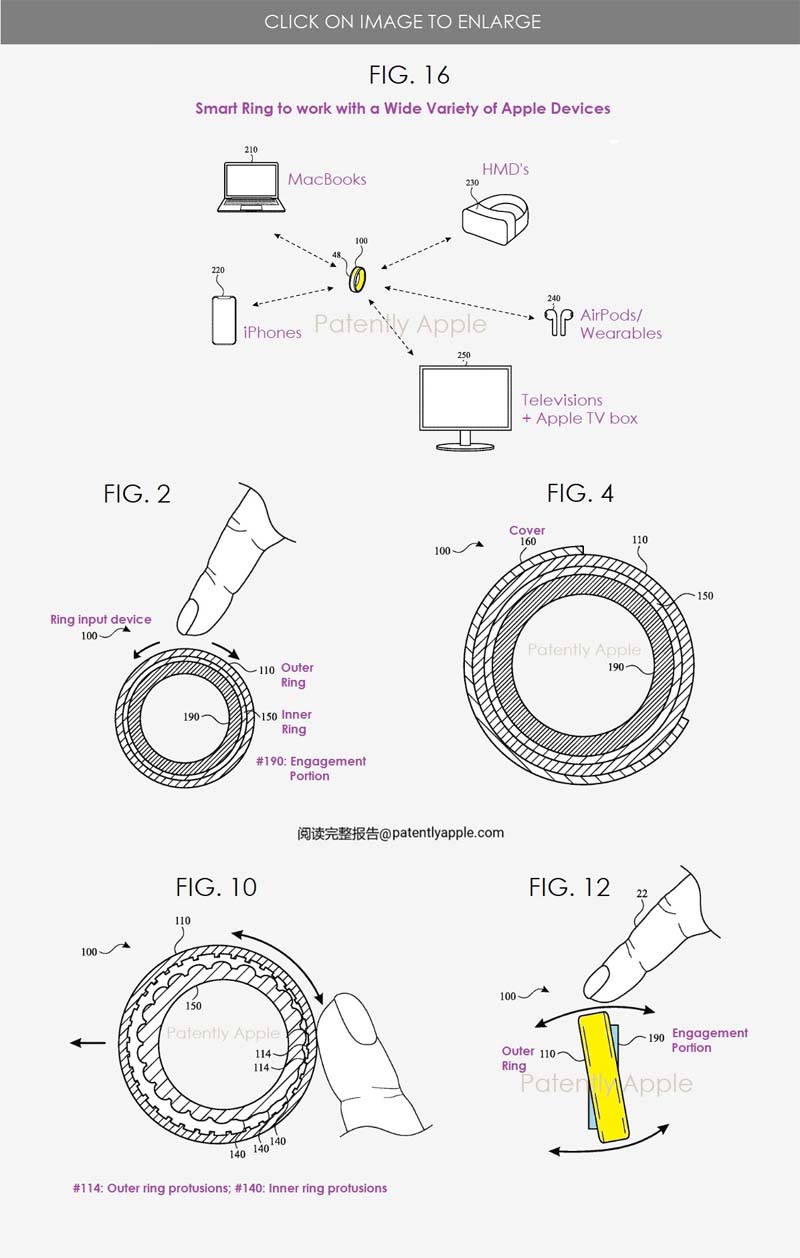 By tilting the ring vertically, shifting it horizontally, or combining these moves, users could seamlessly switch songs, adjust volume, snap photos, or even engage with augmented and virtual reality experiences. It's Minority Report-level interactivity wrapped around your digit.
Apple is jumping feet first into uncharted waters. While smart rings already exist, none have achieved mainstream success or demonstrated game-changing use cases. By leapfrogging stagnant players, Apple could blaze a trail and popularize this emerging wearable frontier.
It won't be smooth sailing though. Ergonomic challenges abound in packing advanced sensors and haptics into such a tiny chassis. Battery life limitations also loom menacingly. But if any company can elevate smart rings from geeky gadget to must-have tech accessory, it's Apple.
The ramifications for input technology could be immense. This unassuming ring may be writing the first chapter in the story of a post-touchscreen future.buckle up, the age of fingerputers is nigh. Apple's latest patent has set the stage for the small screen's big successor.
Some are already speculating about what this could mean for the future of Apple devices. Will we see an iRing included with every purchase, or will it be sold separately?
EDITOR PICKED:
Apple's Foldable iPhone Inches Closer to Reality, Review Apple Patent of Foldable
Apple HomePod Patent with Camera Approved: Simplify Smart Home Control Without Accurate Device Names