Apple has been granted a new patent that provides clues into Apple's work on foldable device displays, patent outlines methods to dynamically control color and brightness between the upper and lower portions of a foldable screen.
Foldable devices allow for a large screen that can be folded to make the device more compact, when folded, the upper half of the screen can display content like videos or apps, while the bottom half shows input controls like a keyboard.
But having two separate display areas at different angles can cause image ghosting or perceived brightness/color differences between the two screen halves. Apple's patent describes techniques to compensate for these issues.
For example, in low light conditions a foldable phone may dim just the top portion of the folded display showing media content, while leaving the keyboard portion at normal brightness, prevents uneven lighting between the two areas.
The patent also suggests applying a blue light filter or color shift mode only to the upper section after folding to optimize nighttime viewing. Selectively controlling brightness and color balancing between the two folded display portions enhances the viewing experience.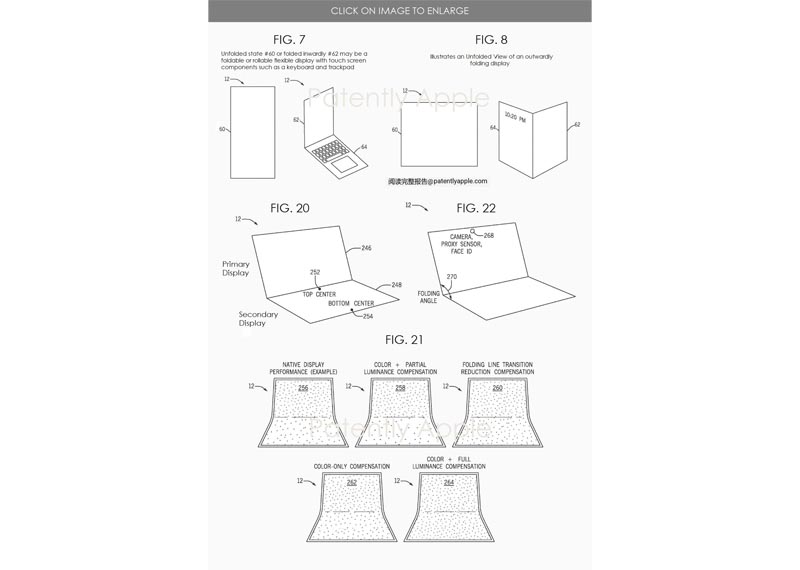 To enable adaptive control, the foldable screen can track eye positioning using sensors or cameras, knowing where the user's gaze is directed allows dynamically adjusting the display settings of each portion for optimal viewing.
While foldable devices are not yet part of Apple's product lineup, this patent indicates the company is actively researching how to overcome some of the unique display challenges that folding screens introduce.
The ability to independently tune color, brightness, and other settings between distinct display areas formed when folded could be key to delivering a seamless viewing experience, may involve special modes tailored to different lighting conditions and use cases.
As usual, the patent does not confirm Apple will actually launch a foldable iPhone or device anytime soon. But the level of detail suggests foldable displays are firmly on Apple's radar for future innovations.
Apple faces rising competition in foldable devices from Samsung, OPPO, and others Chinese brands. By patenting advancements like adaptive brightness and color control, Apple is staking claims in vital technologies for making foldable gadgets usable in the real world.