Asus has finally launched its new small size flagship phones, the Asus Zenfone 10, and it's got some impressive features to offer. This phone weighs only 172g, making it one of the lightest phones in the market. Zenfone 10 boasts a Snapdragon 8 Gen 2 processor, LPDDR5X+UFS 4.0, and comes in 8+128/8+256/16+512 memory configurations.
Offering a 5.9-inch OLED screen with a resolution of 2400*1080, 144Hz refresh rate, DC dimming, and Corning Gorilla Glass Victus. The front camera has 32MP pixels, while the main rear camera has 50MP pixels with Sony IMX766 and OIS optical stabilization. Additionally, it has a 13MP pixel ultra-wide-angle lens.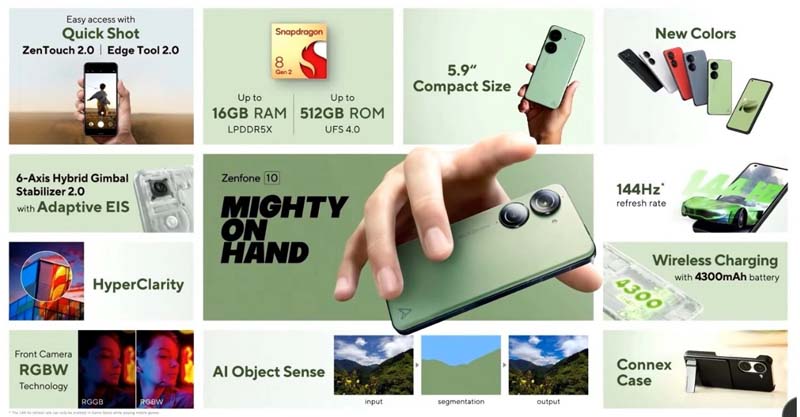 The phone support as IP68 water and dust resistant, also has a 3.5mm headphone jack, Zenfone 10 is boost a 4300mAh battery and both 30W wired charging and 15W wireless charging with Qi.
Compared to the previous-gen, the Zenfone 10 doesn't have many significant changes. It still uses the same 5.9-inch display and weighs same as 172g.
But multifunctional side fingerprint recognition power button has been upgraded to support more up-down slide operations, side toolbar has also been improved to allow for more quick operations similar to those in the notification bar. cover back addition of a new green color and slight adjustments to the red and white colors. These three colors will use environmentally friendly materials with different textures for the back cover, and the phone's packaging will be made from recycled paper and soy ink.
ASUS ZenFone 10 powered by Snapdragon 8 Gen 2 processor, memory up to 16GB, and storage capacity goes up to 512GB UFS 4.0, battery remains the same at 4,300mAh, 30W, but it adds 15W of Qi protocol wireless charging.
Samsung AMOLED screen, with a refresh rate upgraded from 120Hz to 144Hz, 112% DCI-P3 color gamut, peak brightness of 1,100 nits, and PPI of 445. The phone retains dual speakers and a 3.5mm headphone jack, and Bluetooth supports aptX AL encoding, with improved equalizer performance for various audio devices.
Official presentation showcased the Zenfone 10 phone case, which looks similar to the Zenfone 9 case, and it's speculated that the previous generation's case can be used directly.
The camera segment of the launch event was the longest and least interesting part. The main camera sensor remains the same as the previous generation's IMX766, but the ultra-wide-angle lens has been widened to 120 degrees with 13MP pixels. The previous generation's 6-axis stabilization gimbal has been upgraded to intelligently adjust the cropping range in conjunction with the gyroscope. It has collaborated with OZO to enhance wind noise reduction during recording and added a 3D surround recording mode. Additionally, it has more powerful AI-assisted imaging functions, a super clear zoom function, improved image quality when zooming in, an upgraded portrait mode with 2x zoom and 50mm equivalent focal length function, and a more refined facial image.
Asus Zenfone 10 will be available for purchase on June 30th at 12:00. The 8+128GB version is priced at 799 euros, 8+256GB at 849 euros, and the 16+512GB at 929 euros.