DJI has catapulted into the stratosphere with the launch of its innovative new Air 3 drone tonight. This futuristic flyer boasts a dual-camera system, a whopping 46-minute battery life, all-directional obstacle avoidance, dual 48-megapixel cameras, dual 4K HDR video, and then some. With a starting price tag of $1099, this drone is without a doubt, more bang for your buck!
The Eyes Have It
The Air 3 is the first drone in DJI's Air series to feature a dual-camera setup. It's got a 1/1.3 inch CMOS wide-angle camera and a 1/1.3 inch CMOS 3x zoom camera, all packed into its petite frame. You heard it right, folks. Both sensors support dual native ISO and can output uncropped, high frame rate 4K/60fps HDR video. Plus, they've got 10-bit D-Log M and 10-bit HLG color modes, supporting up to 48-megapixel high-resolution snaps.
The 3x zoom camera adds an extra layer of oomph, providing 3x lossless image quality and creating a strong spatial compression sense. It brings the background closer to highlight the foreground, making your aerial photography pop!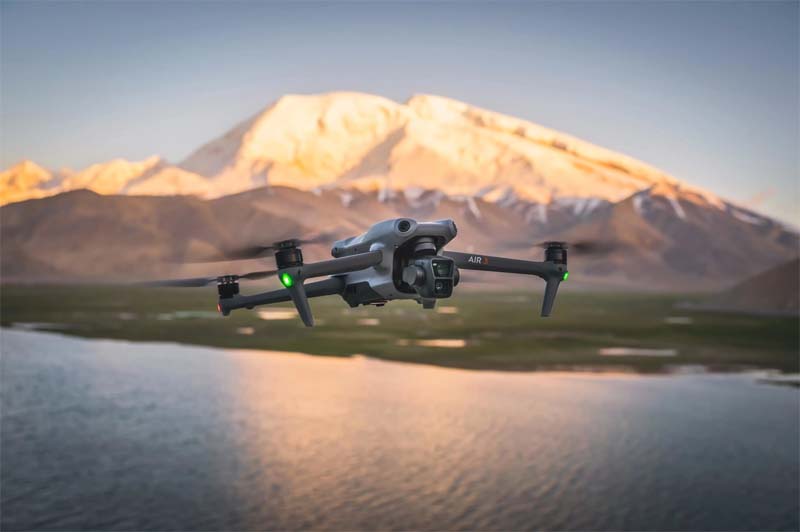 Power Packed and Perception Perfect
DJI also juiced up the battery, increasing max flight time by a whopping 48% to 46 minutes. The new charging hub even lets you share power between batteries so you can keep eyes in the skies longer. What's more, it can provide emergency power supply for laptops with an 82W PD output.
The Air 3 is the first Air series drone to come with an all-directional visual perception system. Combined with APAS 5.0 (Advanced Pilot Assistance System), it can detect obstacles in all directions. Safe and smooth flight? Check!
EDITOR PICKED: DJI Mavic 3 Pro Launched: The Ultimate Eye in the Sky
Smart
DJI's new O4 image transmission technology can achieve long-distance transmission of up to 20 kilometers, with a maximum support for 1080p/60fps image transmission. The Air 3 can also house DJI's new generation of enhanced image transmission module, which can be directly inserted into the drone's body for efficient 4G network access.
The drone offers a host of intelligent features, like the focus tracking function. This allows it to easily focus on the main character, especially when using the 3x zoom camera. The unique spatial compression sense can better highlight the character's aura.
Something New
For the first time, DJI has introduced a waypoint flight function in the Air series. This lets users plan flight routes and shooting actions in advance, unlocking complex camera movements. And if you save your flight route, you can repeat the same flight mission with precision, recording day and night, and the changing of the seasons.
The Air 3 can wirelessly connect to the DJI Fly app for a quick preview of captured materials and one-click intelligent editing. Plus, it saves phone storage space.
Price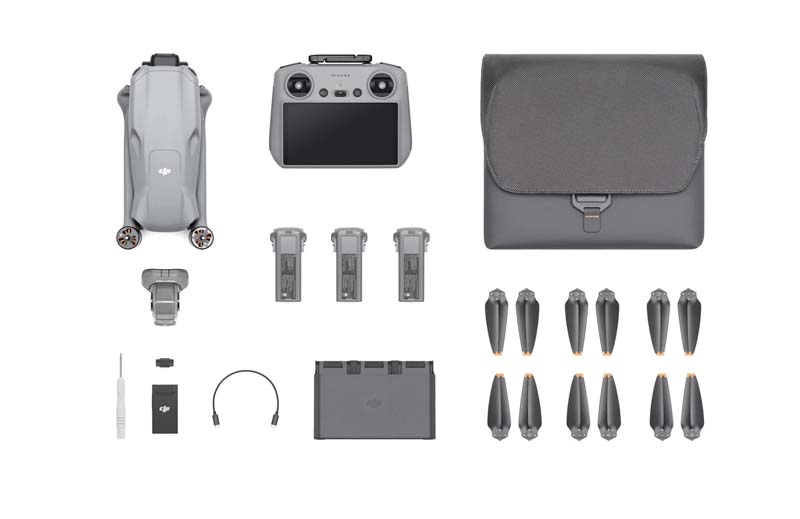 To round it off, DJI is unveiling two new remote controllers, the DJI RC-N2 and DJI RC 2, which come with three different kit versions.
DJI Air 3 (DJI RC-N2) is priced at $1099
DJI Air 3 Fly More Combo (DJI RC-N2) at $1349
DJI Air 3 Fly More Combo (DJI RC 2) at $1549
The last bundle includes the DJI RC 2 with a 5.5-inch 1080p 700-nit high-brightness screen, two additional batteries, a battery charging hub, and more.
So, are you ready to let your creativity take flight with the DJI Air 3?