The internet has been abuzz with excitement and speculation ever since Google officially shared a sneak peek of its first folding phone, the Pixel Fold. With critics and enthusiasts alike chattering about every aspect of the device, it's hard not to get swept up in the conversation. Amidst the clamor, some folks can't help but bleat about the screen bezels, nitpicking at a seemingly minor detail. But hey, you know what they say: you can't please everyone.
As an adventurous foray into the world of foldable phones, the Pixel Fold has a lot on its plate. So, we thought we'd cut through the noise and focus on what really matters. In the post, Gizmoweek's take a closer look at how Google plans to tackle some of the most pressing concerns around foldable phones, from the infamous crease to the unique software challenges. And of course, we'll touch upon the much-debated bezels.
Design and Folding Screen
First impressions matter, and the Pixel Fold doesn't disappoint. Unveiled in a Google official short video, the folding phone boasts a sleek design that's sure to turn heads. Opening and closing like a book, the Pixel Fold features a hinge mechanism that seems robust and reliable. Though we've yet to see it in person, we're optimistic that the hinge will hold up to the test of time.
More than just a pretty face, the Pixel Fold's screen is the real star of the show. When unfolded, it offers an expansive, tablet-like display that's perfect for multitasking or enjoying your favorite media. The aspect ratio, in particular, seems to strike a good balance between screen real estate and portability, making the Pixel Fold a versatile device for all sorts of users.
But what about those bezels? The world's loudest complainers have latched onto this design quirk as a point of contention. In truth, the bezels are symmetrical both horizontally and vertically, which should lend the Pixel Fold a pleasing aesthetic when viewed in person. And let's not forget that the way you hold a foldable is quite different from a traditional phone, so the bottom bezel may not be as big of a deal as some make it out to be.
Smoothing Out the Crease
One of the biggest concerns with foldable phones is the notorious crease, a visible line that can mar the overall user experience. Google seems to be aware of this issue, and we're eager to see how they address it in the Pixel Fold.
Android OS Solutions for Foldable Challenges
With foldable phones comes a new set of software challenges, and Google is uniquely positioned to tackle these head-on. As the creator of Android, Google has the power to implement native solutions for foldable-specific issues, such as app compatibility and seamless transitions between folded and unfolded modes.
We're keen to see how Android will evolve to support the Pixel Fold and other foldable devices, providing a smooth and enjoyable user experience that rivals traditional smartphones.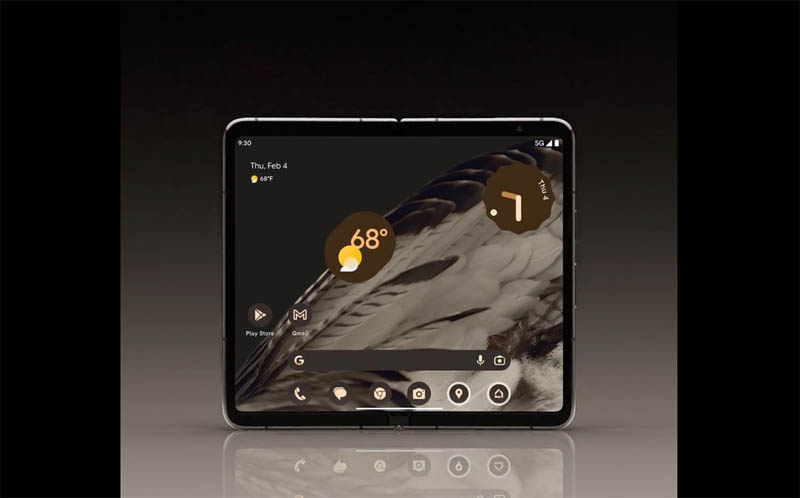 A Picture-Perfect Camera Experience
Google's Pixel line has long been praised for its exceptional camera performance, and we have high hopes for the Pixel Fold's photographic capabilities. Can Google elevate the foldable photo experience, perhaps by taking advantage of the unique form factor for new shooting modes or more immersive image previews? Only time will tell, but we're keeping our fingers crossed for some camera magic.
Repairability the First Pixel Foldable Phones
Foldable phones are undeniably delicate devices, and accidents happen. With that in mind, it's crucial for Google to offer sufficient repair options to support the inevitable breakages. We hope to see a robust repair infrastructure that makes it easy for Pixel Fold owners to get their devices fixed without breaking the bank or waiting ages for a replacement.
The Final
While it's too early to pass judgment on the Pixel Fold, we're certainly intrigued by Google's first foray into foldable smartphones. From its eye-catching design to the potential for innovative software solutions, the Pixel Fold has a lot going for it. Of course, there are still questions to be answered and concerns to be addressed, but we're optimistic about the future of the Pixel Fold and foldable phones in general.
As for those bezel-focused naysayers, we can't help but think that they'll change their tune once they get their hands on the Pixel Fold in person. Sometimes, you just have to see it tobelieve it.
So, let's raise a toast to Google for taking the plunge into the world of foldable phones. Can't wait to see it in the flesh. But for now, we'll have to content ourselves with poring over every detail and eagerly awaiting the day we can finally unfold the future in our hands, cheers to the Pixel Fold. Join our community of Pixel Fans! Follow us and share your unique perspectives and opinions on all things Pixel device. We can't wait to hear from you!