Intel has officially taken the wraps off the next generation of its Thunderbolt connectivity standard, Thunderbolt 5. The new specification brings major jumps in capabilities, more than tripling maximum speeds while introducing enhanced display support tailored for both professional and gaming use cases.
A Glimpse into Intel's Future: Xe Graphics, PresentMon Beta, and AIGC Advancements
Bandwidth Gets Another Boost
Ever since its introduction over a decade ago, Intel has iterated on Thunderbolt to gradually increase bandwidth potential. Thunderbolt 5 continues that trend, doubling the bidirectional bandwidth ceiling from 40Gbps on Thunderbolt 4 to a blistering 80Gbps.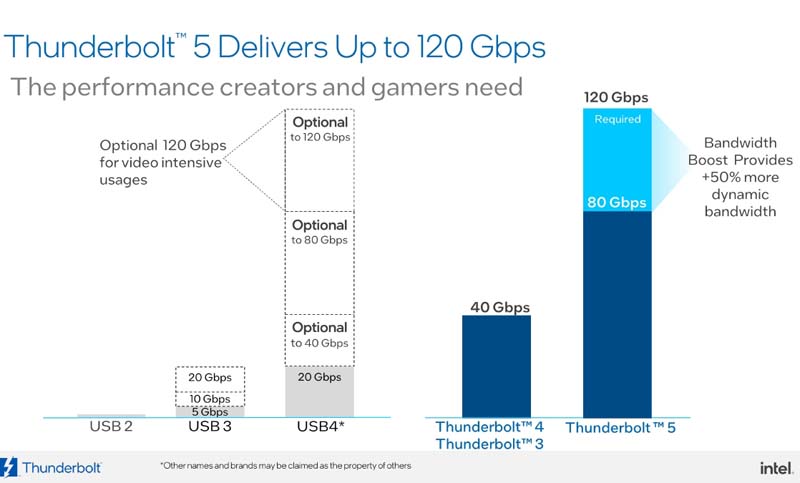 Real-world demonstrations from Intel show peak sequential read and write speeds of 6223 MB/s and 5383 MB/s respectively on early Thunderbolt 5 implementations. To put that into perspective, you could transfer a full 250GB game install or media project in around 50 seconds.
This level of speed opens the door for new high-bandwidth accessories and peripherals. External GPUs and AI accelerator attachments will benefit greatly. Thunderbolt 5 can also reduce bottlenecking when transferring large files between fast NVMe storage devices.
But it's the enhancements on the display side that may be even more impactful for many users.
All About the Displays
While Thunderbolt 4 already enables dual 4K 60Hz display output, Thunderbolt 5 pushes video capabilities further with support for up to three 4K displays running at a blistering 144Hz refresh rate. For context, that's double the frame rate of Thunderbolt 4.
This level of output allows for Immersive multi-display productivity setups. Creative professionals can drive expansive canvases across three screens while retaining smooth scrolling and panning. Accelerated workflows become possible thanks to the increased pixels and fluidity.
Gamers also get a nod with Thunderbolt 5's ability to handle a single display at up to a 500Hz refresh rate. That's an insane frame rate only possible on some incredibly fast gaming monitors. While 500Hz panels are still rare and expensive, Thunderbolt 5 ensures compatibility for early adopters and forward compatibility as the tech becomes more mainstream.
To intelligently manage the heightened display capabilities and available bandwidth, Thunderbolt 5 implements dynamic bandwidth allocation. Resources are shifted on the fly between video transmission and data based on real-time requirements. If you're driving multiple displays while moving files, throughput is optimized between the tasks.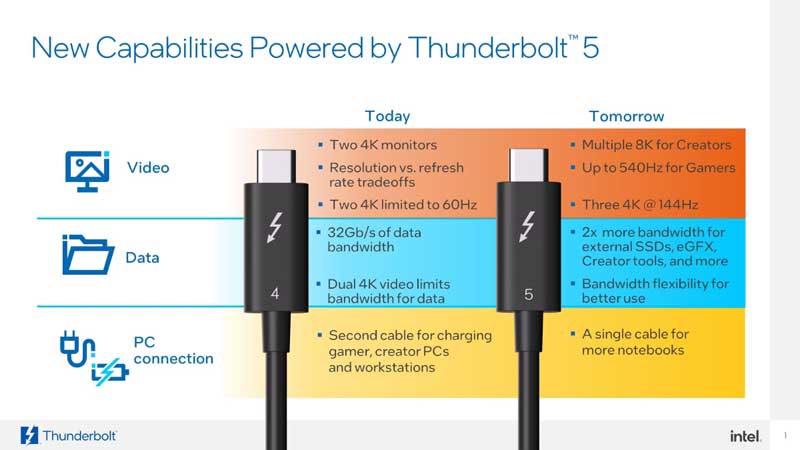 Evolution Not Revolution
Thunderbolt 4 isn't left fully in the dust. Intel clarified Thunderbolt 5 is designed to co-exist alongside Thunderbolt 4 rather than outright replace it. The new spec targets more professional and demanding use cases where the bleeding edge bandwidth and video outputs enable workflows not possible on Thunderbolt 4.
But for general consumers and business users, Thunderbolt 4 remains a compelling option, especially given Intel's efforts around cost and compatibility considerations.
Thunderbolt 5 utilizes PAM-3 signaling, the same technology implemented on USB 4 version 2. This allows Thunderbolt 5 controllers and peripherals to be produced more affordably than the pricier PAM-4 spec used on USB4 version 1.
Stronger backwards compatibility also lowers upgrade friction. Users can utilize existing Thunderbolt 3 and Thunderbolt 4 cables without a hitch due to PAM-3 signaling.
What's Next?
With the formal specification now released, it will be a matter of time before Thunderbolt 5 begins appearing in new laptops, motherboards, and peripherals from Intel partners and vendors. Widespread availability likely won't land until 2025 at the earliest.
Until then, consumers will be anticipating real-world implementation and pricing details for Thunderbolt 5 hardware upgrades. But Intel seems to have charted an compelling technical path forward for professionals and early adopters who can justify the next generation of speed.
EDITOR PICKED:
Leaked Benchmarks AMD Zen 5 Could Crush Intel 13th Gen with Ryzen 8000
Intel Core Ultra i7 Chips Hit Blazing 5GHz+ Speeds for single-core speeds