First Geekbench 6 benchmark results for Apple's M3 Max chip have surfaced, giving us an early glimpse of just how powerful their next-generation silicon will be. According to the leaked benchmarks, M3 Max posts a multi-core score of 21,084 – narrowly beating out the current M2 Ultra chip found in the Mac Studio, which scored 21,497.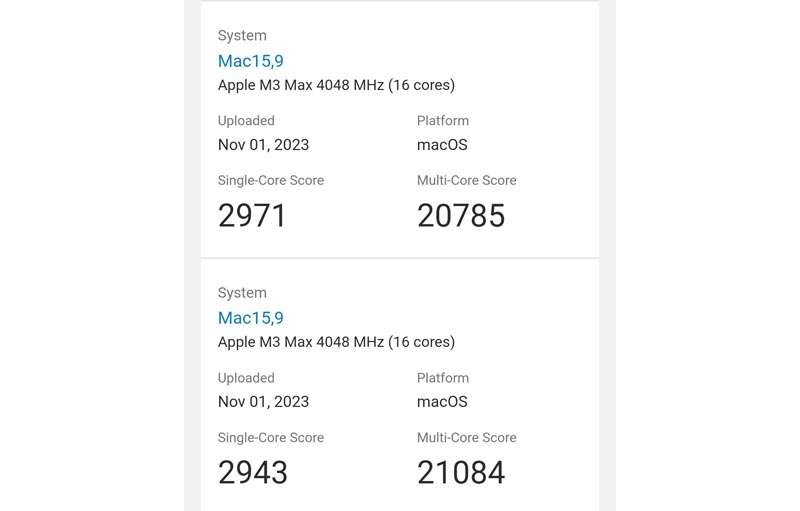 While only a minor performance lead, this is an impressive show of strength from the M3 Max, considering it is expected to go into a smaller form factor MacBook Pro rather than a high-end desktop computer like the Mac Studio. M2 Ultra is already no slouch, M2 Pro and M2 Pro max feature up to 12 CPU cores and up to 38 GPU cores. So the fact that Apple is able to squeeze out even more performance from the M3 Max is a testament to their chip design expertise.
EDITOR PICKED: 2023 MacBook Pro M2 Pro: Two-month experience using the Heavy Gift
This also highlights how quickly Apple's silicon efforts are progressing, just in March 2022 that the Mac Studio launched with the 'world's most powerful and capable chip' in the M2 Ultra. Yet here we are less than 18 months later, and it's already being outdone by Apple's next chip.
Benchmarks don't provide full details, but indicate the test system is running 12 performance cores and 4 efficiency cores, follows Apple's big.LITTLE design approach, with the high power P-cores and energy efficient E-cores working together for the optimal balance of performance and battery life.
Compared to the 10-core CPU in the M2 Max and Ultra chips, the additional P-cores should provide a healthy boost to multi-threaded workloads. Apple's 7nm to 3nm jump will also play a key role, allowing higher clock speeds and power efficiency. TSMC's 3nm process is expected to deliver up to 15% speed improvement or 30% power reduction versus 7nm.
While the CPU gains appear modest, the biggest advances with M3 will likely come from the upgraded GPU. Geekbench results for Snapdragon X Elite show it beating Apple's mighty M2 Max chip for both single and multi-core performance. Qualcomm claims includes a total of 12 Oryon cores, rather than a mix of large and small cores like Qualcomm has used in past designs. But point to the M3 Max packs in 40 GPU cores and 16 CPU Cores, this would make the M3 Max an absolute graphics powerhouse.
One key competitor is Qualcomm's newly announced Snapdragon X Elite, Geekbench results for Oryon show it beating Apple's mighty M2 Max chip for both single and multi-core performance. Qualcomm claims it accomplished this while using 30% less power, signaling a major leap in efficiency. However, M3 Max benchmarks now suggest it will outdo Qualcomm's latest silicon as well.
While the performance gains may seem incremental on paper, for demanding creative pros every bit of extra power matters. Video editors working in 8K, 3D modelers, game developers, and machine learning researchers will all benefit from the significant boost M3 will provide over already impressive M2 chips. Apple Silicon has completely upended the chip industry, and the rapid innovation shows no signs of slowing down yet.