Microsoft has officially released a new version of the Phone Link app for global Windows 10 and Windows 11 users, enabling them to send and receive iMessages from their PCs. But, there are some limitations to the service.
After months of testing, Microsoft has finally launched a new version of the Phone Link application for Windows 10 and Windows 11 users worldwide. This app allows users to send and receive Apple iMessage information on their PCs. iPhone users can now make and receive calls, send and receive text messages, and check notifications directly from their computers. This means that Windows 11 can indirectly support iMessage, albeit with some limitations, such as no support for group chats, pictures, videos, and history.
Though still limited, the new iMessage support in Phone Link is a welcome addition for Windows users who also own an iPhone. While services like Dell Mobile Connect and Samsung Link to Windows offered similar functionality for Android phones, Windows PC owners lacked an official way to sync with iOS devices until now.
Easy Connection with QR Codes
On the Windows 11 22H2 system, after updating Phone Link to the latest version (1.23032.186.0) through the Microsoft Store, you can connect to the iPhone without using third-party tools. The pairing method still uses the QR code. Unlike Android, which needs to guide you to download the "Link to Windows" app in advance, after using the native camera to recognize the QR code, the iPhone will directly prompt the device pairing window, and use the "App Clip function introduced by iOS 14 for Bluetooth connect.
Seamless Experience with App Clip
Microsoft is trying to make the experience of its connection sync feature as seamless as native Continuity. Moreover, the application on the iOS side currently does not have any more functions, and the use of App Clip can already meet the requirements. Although there is no separate app icon, you can still find and change its permission settings in the settings.
EDITOR PICKED: iPad Pro: Cutting Edge Creativity with Final Cut Pro and Logic Pro
Limited Functionality for iOS
After the pairing is complete, you need to complete some permission settings according to the prompts, and then you can operate on the computer through the Bluetooth connection. The current Phone Link's support for iOS is relatively basic, mainly offering three functions: notifications, text messages, and calls. In contrast, the functionality provided for Android users is more comprehensive, including photo album management and Do Not Disturb mode switch.
iMessage Support with Some Caveats
In the Phone Link app, all messages appear as gray bubbles, which means iMessages and SMS text messages cannot be distinguished on a computer. Also, messages can only be transferred to the computer when the iPhone is connected via Bluetooth. iPhones must be running iOS 14 or later, and the feature isn't available on iPads or Macs, Microsoft said.
But Phone Link does support sending and receiving iMessages. The reason is that Phone Link synchronizes and sends information by getting notifications, which can be understood as using the quick reply function of iOS. According to the iOS mechanism, as long as the iMessage can be sent, it will automatically complete the conversion.
However, because of this, this feature currently cannot view iMessage group messages, cannot display pictures normally, and cannot synchronize past message records; when you open the information page (no notification) on your phone, the message will not appear on the PC side.
With iMessage support in tow, Phone Link inches closer to providing iPhone owners with a seamless desktop messaging experience akin to what Mac users get with Continuity. Though still a work in progress, the app shows Microsoft's commitment to connecting Windows PCs and iPhones in meaningful ways. For Windows fans who can't quit iMessage, that's a welcome sign of progress.
Call Functionality and Security Concerns
The call function is consistent with Android, after granting the relevant permissions, you can directly make and receive calls on the PC side, and the voice is transmitted through Bluetooth. Phone Link also syncs recent call logs. If you only occasionally need to receive mobile phone information on your PC, or just want to know what notifications are coming from your iPhone without performing more complicated operations, Phone Link, which supports light apps and does not require a separate download of apps, is fully capable.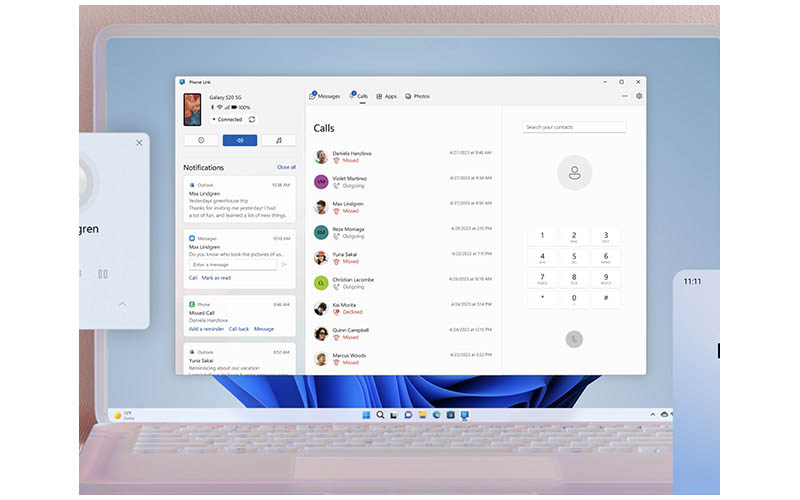 However, cybersecurity firm Certo Software recently warned in a blog post that cyberstalkers can install certain apps on iPhones without the user's knowledge. During this process, the attacker needs short-term physical access to the victim's mobile phone, scans the QR code with the mobile phone, and after pairing with the Win 11 system, can steal the relevant data of the victim, including all iMessage information, call records, and application notifications, among others.