A new iPhone photography accessory called SPARK launched on Kickstarter, promising to deliver more professional-level shooting capabilities. With physical controls and advanced features, it transforms the iPhone into a versatile imaging tool.
Gone are the days of simple point-and-shoot cameras on smartphones. Thanks to advancements in hardware and software, mobile photography has become increasingly sophisticated. Manufacturers, like Xiaomi, have recognized this shift and are pushing boundaries with their offerings. Xiaomi 13 Ultra, for instance, introduced a professional photography kit, blurring the lines between smartphones and dedicated cameras.
SPARK attaches to iPhones magnetically via MagSafe or included stickers. It adds 9 buttons and a dial to manually control shooting parameters like exposure, zoom, and more. This allows for quicker adjustments compared to touch controls.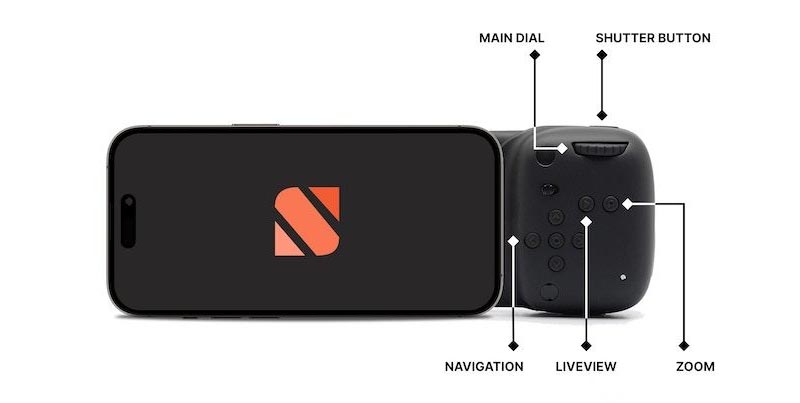 The accessory also enables smooth zooming thanks to the physical dial. And it has a built-in tripod mount for stable long exposures or timelapses.
For tricky shots like lightning strikes, SPARK uses a light sensor to detect changes in ambient light and automatically trigger the shutter. This takes the guesswork out of capturing fleeting moments.
SPARK provides handy features missing from the native Camera app. This includes crowd removal, multi-frame noise reduction, and histograms for precise exposure evaluation.
SPARK's compatibility with Apple Watch further adds to its appeal. This integration allows users to seamlessly control their photography experience across multiple devices, revolutionizing the way iPhone users capture images. The software supports various formats, including ProRAW, RAW, JPG, and TIFF, providing photographers with the flexibility to choose the output that best suits their needs. SPARK promises over a year of battery life for uninterrupted shooting.
While pro iPhone have made strides, physical controls remain superior for manually tweaking settings. By blending hardware and software, SPARK unlocks the iPhone's potential as a versatile pro-level camera.
The $109 price makes SPARK an affordable way to take iPhone photography expertise to the next level. As Apple continues advancing mobile image capture, accessories like SPARK will further enable creativity and customization.