Apple's silicon team is cooking up a new beast of a chip that could massively boost the performance of future Macs, based on the latest insider scoop from Bloomberg's Mark Gurman.
In his "Power On" newsletter, Gurman reveals that Apple is developing an M3 Ultra chip slated for release in 2024. This new silicon will target pro Macs like the Mac Studio and Mac Pro, juicing up specs across the board.
The rumored stats on the M3 Ultra make the current M2 Ultra look tame:
Up to 32 CPU cores (a 33% jump from 24 cores in M2 Ultra)
Up to 80 GPU cores (versus just 76 in M2 Ultra)
More cores means more speed, especially for intensive tasks like 3D rendering, video editing, programming and more, extra performance cores will crush through heavy workloads.
The M3 Ultra isn't the only new chip in development either. Apple plans to launch Macs with the base M3 processor in October 2022, including upgraded 13-inch MacBook Air and MacBook Pro.
Looking ahead to 2024, souped up 14-inch and 16-inch MacBook Pros with M3 Pro and M3 Max chips will arrive, followed by the new Mac Pro and Mac Studio rocking the ultra-powerful M3 Ultra silicon.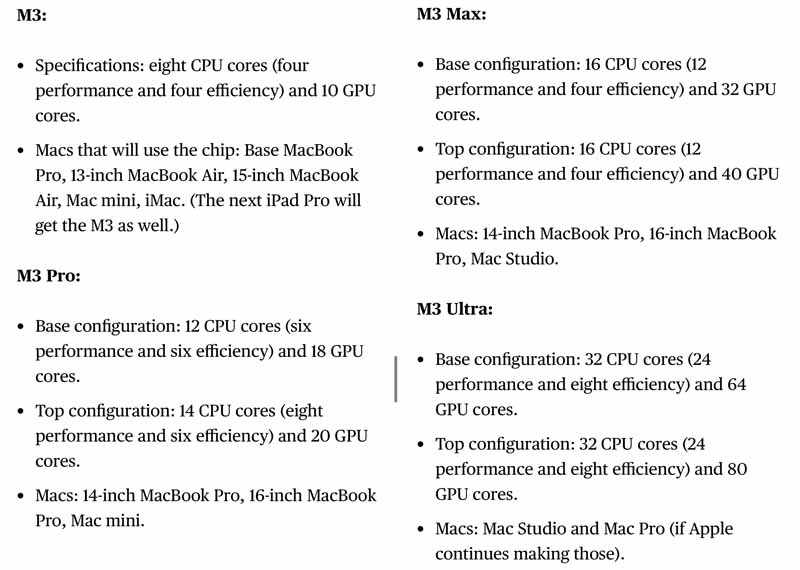 Other rumored tweaks include bumping up the max RAM to 48GB on MacBook Pro, a nice increase from the current 32GB limit.
Apple's roadmap points to massive gains in Mac performance over the next couple years. The company's custom silicon has already left Intel chips in the dust. Now the M3 promises to take Apple's silicon success story to the next level and cement Mac as powerhouse device for pro.
EDITOR PICKED:
Apple's Upcoming Mac Lineup: New iMac with M3 Chip, Mac Pro and MacBook Air Updates on the Horizon
Apple's M3 Chip Set to iMac, MacBook Air, and MacBook Pro in October