During the WWDC23 Worldwide Developers Conference Keynote presentation, Apple showcased new systems including iOS 17, iPadOS 17, watchOS 10, and macOS Sonoma. Today, Gizmoweek's focus on the new features and changes in iOS 17, which brings significant updates to communication and collaboration.
New Features to Enhance Communication
Apple stated in the first Keynote that communication experience remains at the core of the iPhone experience, and thus, iOS 17 introduces a series of new features to enhance communication.
Contact Posters
The first feature introduced in iOS 17 is Contact Posters, which allows users to create an image that will be displayed during incoming calls for themselves and their contacts. Users can use photos and emojis and customize the layout and font color in a similar way to customizing the lock screen.
Users can quickly share contact posters by placing their iPhone together using the NameDrop feature. Additionally, the contact poster feature can be used in third-party apps that support CallKit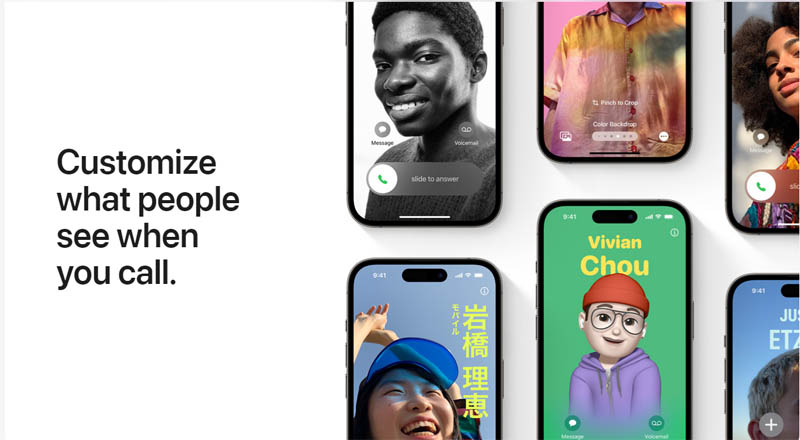 Live Voicemail
The Live Voicemail feature transcribes voicemail messages in real-time using local machine learning algorithms and allows them to be listened to directly during the incoming call. Calls identified as spam by the carrier will be rejected immediately instead of showing up in the voicemail.
FaceTime Upgrades
In FaceTime, the audio and video message feature and Reaction feature enable users to send immediate video or audio messages while calling busy people and trigger special effects such as hearts, balloons, fireworks, lasers, and rain during video calls.
Messages App Upgrades
In the Messages app, there are significant upgrades such as the ability to collapse the app to the leftmost "+" icon and use filters to search for messages more precisely. Users can also use a follow-up arrow to jump to the first unread notification during a chat and reply by swiping left on text bubbles. When sending voice messages, the app will automatically transcribe them into text. Additionally, location sharing will update users' location in real-time, and the new Safe Arrival check-in feature allows users to notify their friends or family when they arrive at their destination. If the user does not reach their destination within the expected time, the selected contacts will receive the device's location, battery status, and phone service status.
StandBy
StandBy is a new feature that allows the iPhone 14 Pro to display useful information in full-screen mode during standby, including time, photos, widgets, real-time notifications, and Siri. iOS will also recommend the most relevant information based on the current scene. During MagSafe charging, Standby remembers the user's preferred view.
Journal App
Journal is a new app in iOS 17 that guides users to reflect on their thoughts and experiences through journaling. The app uses local machine learning to provide personalized journal suggestions based on recent activities such as photos, people, locations, and workouts. The app also supports encrypted locking and end-to-end encryption.
Minor Updates
In addition to the significant updates mentioned above, iOS 17 also includes several minor updates. The automatic correction and dictation features in the keyboard now include a transformer language model, an advanced on-device machine learning language model that improves accuracy and experience with each keystroke. The autocorrect feature not only corrects grammar errors at the sentence level but also provides real-time suggestions for words and sentences, making text input more efficient.
AirDrop now supports sending content using cellular data and allows two iPhones to share content simultaneously. Users can also share and edit passwords and access keys with others and share AirTags with up to five people, helping friends and family find lost items in the Find My app.
The Home app allows users to view the activity history of up to 30 days for door locks, garage doors, alarm systems, and contact sensors. For Matter locks, users can unlock them with a tap or a PIN code, in addition to the previously supported HomeKit unlock method.
Finally, iOS 17 allows for offline map downloads, and widgets will support interaction.
EDITOR PICKED: Apple Unveils the Vision Pro: A Game Changer in Spatial Computing