When it comes to wireless audio performance and quality over Bluetooth, Qualcomm Snapdragon platforms have a noticeable advantage versus MediaTek Dimensity chips thanks to proprietary technologies like aptX Adaptive. For discerning listeners, Qualcomm's audio tech leads to a superior listening experience.
Qualcomm's aptX Adaptive is currently the most advanced Bluetooth audio codec overall when considering sound quality, stability, latency, and compatibility. With a Snapdragon smartphone and aptX compatible headphones utilizing a Qualcomm QCC3040 or newer audio processor, users can enjoy exceptionally stable hi-res streaming that surpasses rival tech like LHDC and LDAC.
Audio codec aptX Adaptive's dynamic bitrate adaptation reduces latency for a more instant, in-sync listening experience, makes it an excellent match for wireless headphones and true wireless earbuds. Qualcomm has constantly iterated and refined itsaptX suite, maintaining an edge over the years.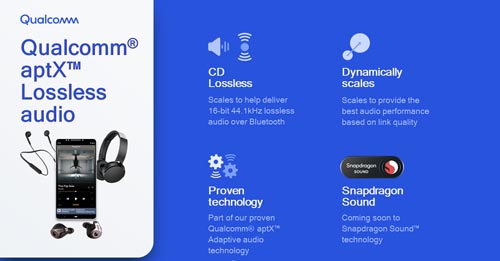 In contrast, MediaTek's audio technologies like Dual Bluetooth and LDAC support fall short of Qualcomm's seamless implementation. Even on Dimensity 9200 powered flagships, users report inconsistencies and connection drops compared to Snapdragon's stability.
Some popular devices like the Samsung Galaxy S22 series do not include aptX Adaptive support currently, for Samsung flagships that utilize both Qualcomm and Broadcom chips, adding aptX Adaptive specifically for Snapdragon models would be complicated and fragment the experience.
With the recent Galaxy S23 series, Samsung has switched to exclusively using Snapdragon. But even the top-tier S23 Ultra lacks aptX Adaptive, despite having Qualcomm's FastConnect 7800 chip, this prevents Samsung from fully showcasing Snapdragon's wireless audio capabilities.
For audiophiles seeking the best Bluetooth performance, Qualcomm-powered devices tend to be the safest bet currently. Leveraging technologies like aptX Adaptive, Snapdragon consistently delivers lower latency, higher bitrates, and rock-solid connectivity versus alternatives.
As wireless earbuds explode in popularity, thoughtful audio engineering gives Qualcomm an edge in providing better out-of-the-box experiences. Smooth streaming, syncing audio and video properly, and avoiding dropouts are key to untethered listening satisfaction.
While proprietary, Qualcomm aptX Adaptive does have broad compatibility across devices and headphone brands, continues pushing wireless audio forward with incoming platforms like the Snapdragon Sound Technology suite and 2nd-Gen S3 audio QCC3086.
Until MediaTek can match Qualcomm's innovations in the Bluetooth audio realm, their Dimensity chips may leave some listeners unsatisfied. For shoppers prioritizing wireless connectivity and sound quality, opting for a Snapdragon-powered smartphone remains the best bet.