If you're in the market for a new pair of noise-canceling headphones, the Beats Studio Pro is a great option that should be at the top of your list. With its sleek design, improved comfort, and excellent noise-canceling technology, it's a standout product in the over-ear headphone category. In review, Gizmoweek take a closer look at the Beats Studio Pro, First Impressions a lighter, thinner, better, including its design, sound quality, noise-canceling performance, battery life, and more.
Beats Studio Buds Plus review: Are they worth the upgrade?
Design
The Beats Studio Pro has a sleek and modern design that looks great in any setting. The headphones come in three colors: black, white, and dark brown. The dark brown color is new and has a skin-like coating that looks and feels great, but it does attract fingerprints.
The ear cups, in particular, have undergone a much-needed diet, resulting in less pressure on your ears and enhanced comfort for those marathon listening sessions. It's a major improvement, placing the Beats Studio Pro on par with the comfort offered by other flagship models from Sony and Bose.
One of the biggest improvements over previous Beats models is the reduced thickness of the ear cups. The ear cups are now thinner, which makes the headphones look and feel lighter. This also reduces the pressure on the ears, making the headphones more comfortable to wear for extended periods.
Controls are located on the left ear cup and are easy to use. The center circle controls playback, and the circle up and down adjust volume. Double-clicking the power button switches between noise-canceling modes.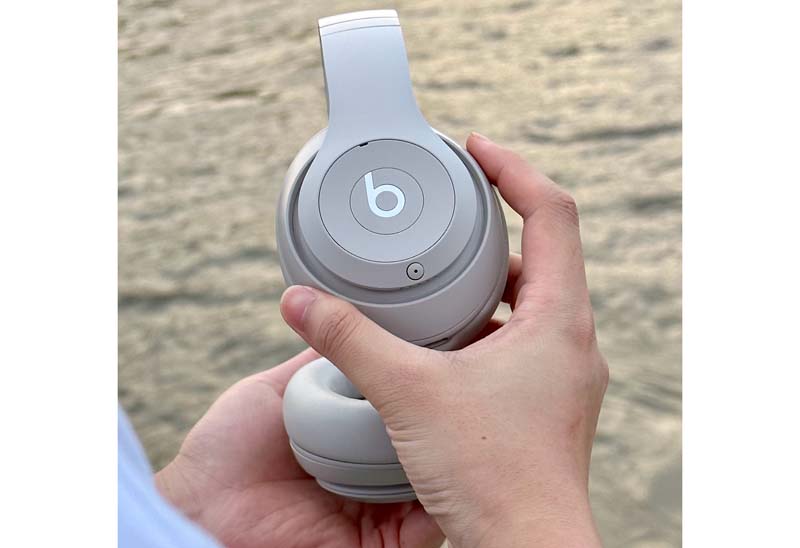 Sound Quality: Balanced and Crisp
The Beats brand is famous for its heavy bass tuning style, which is popular with Hip-Hop fans. However, the Beats Studio Pro offers a more balanced and light sound quality that is suitable for a wide variety of music genres. The headphones emphasize clean and transparent vocals and have good expressiveness for music types that focus on singing.
When it comes to Hip-Hop music, the Beats Studio Pro still delivers clear drum beats, and the use of synthesizers and electronic music elements is also well-defined. The singer's singing and background music are more clearly separated, and the drum beats are crisp and powerful, while the singing is clear and distinct.
Noise Canceling: Quiet and Powerful
As an active noise-canceling headphone produced by Apple, the Beats Studio Pro's noise-canceling ability is top-notch. The ear cups themselves have good sealing, and the noise-canceling effect is quiet and powerful. Even in noisy environments such as subways and airplanes, it still performs stably.
The Beats Studio Pro has two noise-canceling modes: noise-canceling and transparency mode. In noise-canceling mode, all external sounds are blocked out, while in transparency mode, external sounds are allowed in, making it easier to hear what's going on around you. The transparency mode uses the same technology principle as the new AirPods Pro, which can dynamically adjust the external sound collection effect, making the ratio adjustment between sound feedback and noise isolation more dynamic and natural.
Battery Life: Long-Lasting and Fast-Charging
The Beats Studio Pro has a theoretical battery life of 40 hours of continuous playback, which is reduced to 24 hours when the noise-canceling or transparency mode is turned on. This nominal battery life is close to my actual experience.
The headphones also come equipped with Fast Fuel flash charging technology, which means they can be fully charged in just 15 minutes. This charging speed is already impressive among over-ear headphones.
Great for Apple and Android Users
One of the best things about the Beats Studio Pro is that it has applied almost all mainstream technologies that Apple has already market-tested on the AirPods series, but has stronger third-party platform compatibility than AirPods. It has a universal USB-C interface, supports seamless audio switching and device search features for Android systems, and has an independent Beats app for controlling headphone functions (iOS and macOS systems are integrated into the system).
Great Choice for Noise-Canceling Over-Ear Headphones
Beats Studio Pro is an excellent choice for anyone looking for high-quality noise-canceling headphones. Its sleek design, improved comfort, and excellent noise-canceling technology make it a standout product in the over-ear headphone category. The sound quality is balanced and crisp, and the battery life is impressive. The headphones are also compatible with both Apple and Android devices, making them a great choice for anyone who wants a versatile pair of headphones. If you're in the market for noise-canceling over-ear headphones, the Beats Studio Pro is definitely worth considering.
EDITOR PICKED:
Sony Xperia 1 V review: Ultimate Flagship Camera Smartphone