The CompactFlash Association has announced the new CFexpress 4.0 specification, delivering double the maximum theoretical transfer speeds while maintaining backwards compatibility.
CFexpress 4.0 retains the same Type A, Type B, and Type C physical card formats as the current CFexpress 2.0 spec. But it upgrades the interface from PCIe 3.0 to the faster PCIe 4.0.
What kind of devices Thunderbolt 4 support? 10 Gigabit wired, CFExpress Type-B cards
A CFexpress Type A card with one PCIe 4.0 lane can now hit transfer rates up to 2GB/s. Type B cards with two PCIe 4.0 lanes can achieve blazing speeds up to 4GB/s.
The four-lane Type C format has seen limited adoption so far but also benefits from the PCIe 4.0 speed boost.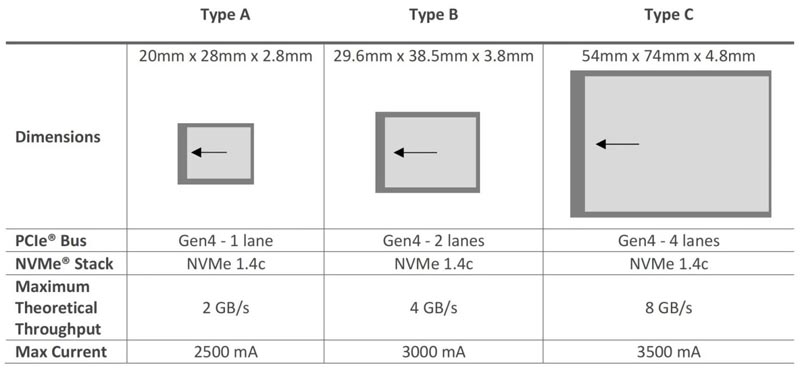 In addition to the interface update, the CompactFlash Association is working on a new Video Performance Guarantee (VPG) specification. This will enable higher minimum write speeds for stable high-res video recording.
The CFexpress 4.0 announcement comes right on the heels of SD Express 8.0 which similarly introduces PCIe 4.0 and NVMe support. It kicks off a new generation of ultra-fast memory cards.
CFexpress is currently used in higher-end cameras from Sony and Canon. For instance, Sony's Alpha series mirrorless cameras leverage CFexpress Type A cards.
The cards don't come cheap, but do offer tremendous performance for capturing lossless RAW images and high-bitrate 8K video. CFexpress brings desktop-class SSD speeds to a removable form factor.
With CFexpress 4.0 doubling theoretical throughput to 4GB/s, cards will finally be able to max out the PCIe 4.0 x2 interface. Real-world speeds will depend on factors like controller and NAND, but should still see a major boost.
For bleeding-edge cameras producing enormous uncompressed 4K/8K video files, CFexpress 4.0 will provide some welcome headroom and future-proofing.
Expect leading manufacturers like Sony, Canon, Nikon and others to start rolling out CFexpress 4.0 cards and card readers over the next year or so.
Adoption may start in top-shelf professional models, but the benefits should trickle down to more mainstream cameras in time. Consumers stand to get better burst shooting, preview generation, and buffer clearing.
Of course, those benefits come with higher memory card costs. But for professional media creators and enthusiasts, the performance will justify the premium.
Overall, CFexpress 4.0 represents an evolutionary update cementing the format as the peak of removable storage technology for the foreseeable future. We can't wait to see 4GB/s speeds in the wild soon.
EDITOR PICKED: Apple A17 Bionic Leaked Benchmarks Reveal Up To 31% Single-Core Performance Boost