Apple's upcoming A17 Bionic processor for the iPhone 15 series promises major performance gains according to leaked benchmark scores. The new chipset will likely power the upcoming iPhone 15 Pro models.
Images shared on social media reveal Geekbench 6 test results of the A17 Bionic inside an iPhone identified as the "iPhone 16,1." The single-core score hits 3269 points, a huge 31% generational uplift versus the A16 Bionic inside iPhone 14 Pro models.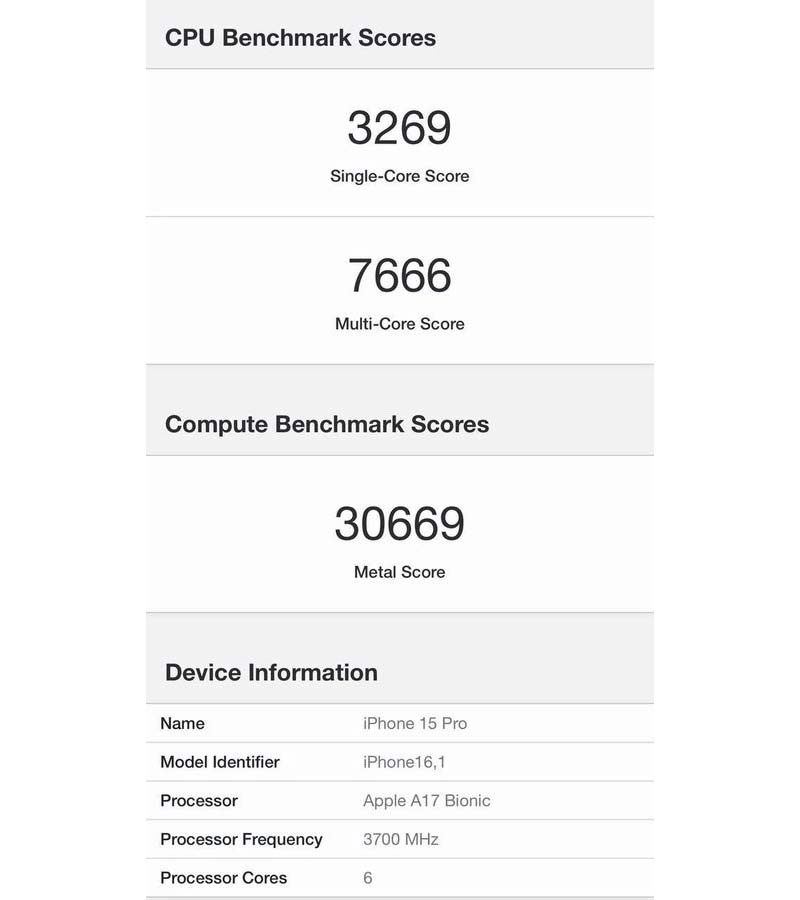 Multi-core performance sees a similarly impressive 24% boost to 14619 points. This reveals the A17 Bionic retains 6 performance cores with all cores operating at the same 3.7GHz clock speeds.
The A17 Bionic's new GPU scores 30669 points in the Metal benchmark. This should enable enhanced graphics, gaming, camera, and AI experiences. Overall, these early leaks point to some of the biggest performance leaps we've seen from Apple silicon in years.
However, it's wise to take these leaked benchmarks with a grain of salt. Results can be easily faked. We'll have to wait for Apple's official unveiling of the iPhone 15 series to confirm these performance claims. But if true, the A17 Bionic will extend Apple's chip performance lead even further.
The new 3nm chip fabrication and architectural improvements likely account for the A17's huge single-thread boost. With expectations rising, all eyes are on the iPhone 15 Pro models to showcase the A17 Bionic's capabilities later this year.
EDITOR PICKED:
Apple Ultra-thin bezels 1.5mm on iPhone 15 Pro – Pushing Screen Technology to the Edge
Apple's Periscope Lens Forces iPhone 15 Pro Max Camera Layout Shakeup