The iPad version of Final Cut Pro brings the power of professional video and audio editing to your fingertips. With touch-optimized features and the familiar interface of Apple's flagship apps, let's dive into what makes these apps worth trying on the iPad.
The Familiarity of Final Cut Pro on iPadOS
The iPad version of Final Cut Pro seamlessly integrates with the iPadOS ecosystem, adopting the common sidebar-style project file management. The interface is compact yet easy to use, with the video inspector, media library, effects browser, function area, and timeline pane all within reach.
Touch Screen Optimization and Virtual Adjustment Wheel
To accommodate the touch screen experience, Apple introduced a virtual "adjustment wheel" for precise timeline scrubbing and media library browsing. The wheel can be moved freely around the screen and is compatible with the Apple Pencil.
Keyboard and Mouse Support
For those who prefer a keyboard and mouse setup, many of the editing shortcuts from the Mac version are available on the iPad, making the transition between devices seamless.
Real-Time Drawing with Apple Pencil
A unique feature of the iPad version of Final Cut Pro is the real-time drawing capability using the Apple Pencil. This allows users to draw directly on a frame of the video and insert the entire drawing process into the timeline as an animation.
Direct Recording with iPad's Camera
Final Cut Pro on the iPad can utilize the device's camera for video recording with more options than the native camera app, and the recorded video can be edited immediately without importing.
Storage Limitations and File Management
The iPad version of Final Cut Pro requires all files to be stored on the internal SSD, making a large-capacity iPad essential for more complex projects. Additionally, importing files from entire folders is currently unsupported, and file organization within the app is limited.
Timeline and Editing Tools
The timeline in the iPad version of Final Cut Pro is intuitive and easy to use, with three modes for selecting segments, ranges, and edges. Basic color adjustments are available, but more advanced tools such as color wheels and custom LUTs are not supported.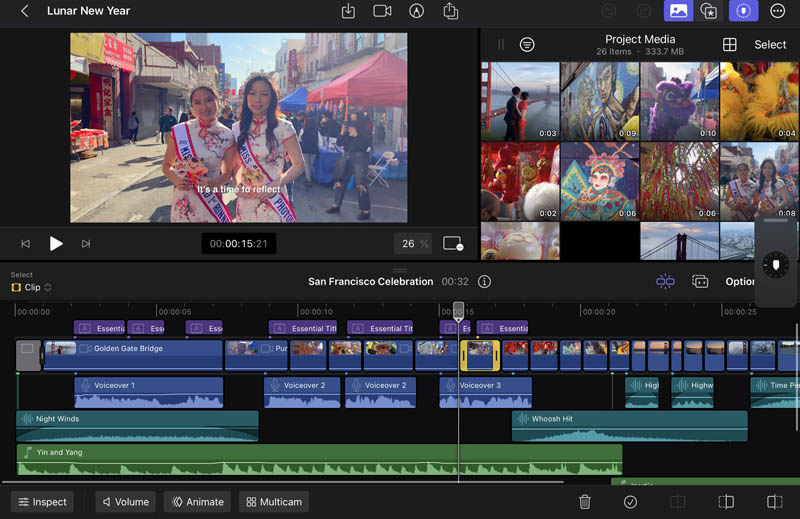 Templates, Presets, and Keyframes
A wide range of templates and presets are available to help create polished videos quickly. Keyframe adjustments can be made, but the current implementation lacks the advanced tools found in other editing software.
EDITOR PICKED: iPad Pro: Cutting Edge Creativity with Final Cut Pro and Logic Pro
Shortcomings:
Limited support for external storage and file management. The iPad version of Final Cut Pro requires media to be stored on the device itself, which can be problematic for users with large media libraries.
Lack of advanced color correction tools, such as curves and color wheels, which are available in the desktop version of Final Cut Pro.
Limited support for third-party plugins and effects, which can be a dealbreaker for professional filmmakers and editors who rely on these tools.
The iPad version of Final Cut Pro lacks some of the advanced features found in the desktop version, such as multi-cam editing and advanced audio editing tools.
Limited compatibility with other editing software and workflows, which can make collaboration and sharing projects with other editors a challenge.
Final
Some small projects are well-suited for editing with the iPad Pro version of Final Cut Pro. For example, for short videos that don't require heavy color correction but need to be adjusted using the Apple Pencil, editing on the iPad may be easier and faster. And if you're using footage shot on an iPad, it makes sense to streamline your workflow by editing on the iPad as well. Additionally, editing on the iPad can be a convenient way to make use of spare time while commuting or traveling.
The iPad version of Final Cut Pro and Logic Pro offers a familiar and touch-friendly experience for video and audio editing on the go. While there are some limitations, the unique features and seamless integration with Apple's ecosystem make these apps worth considering for creative professionals and enthusiasts alike. So, why not give it a try and unleash your creativity on the go?