Samsung just took the wraps off their sleekest, most advanced Galaxy Z Fold yet, all-new Z Fold 5 packs massive upgrades like a super bright foldable display, powerful Snapdragon 8 Gen 2 chip, and refined software to boost productivity. There's deets on Samsung's Galaxy newest foldable phone!
EDITOR PICKED: Samsung Galaxy Z Flip 5 Upgraded Flex Window durable hinge front screen at 3.6 inches
Straight off the bat, the Z Fold 5 dazzles with a 7.6" Dynamic AMOLED 2X inner display that's a whole 30% brighter than its predecessor, talking a blazing 1,750 nits max brightness for outrageously vivid visuals, with a silky smooth 1-120Hz adaptive refresh rate, all your apps and games will look fantastically fluid.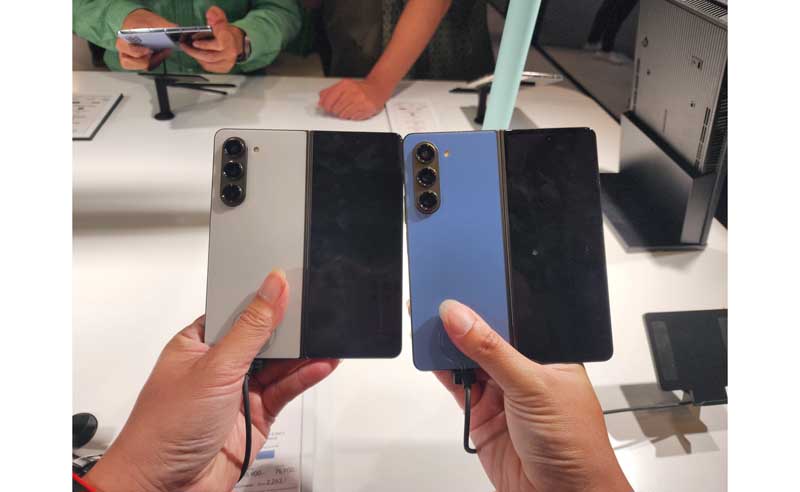 Z Fold 5 foldable external cover screen also got an upgrade, now measuring 6.2 inches with a supercinematic 23.1:9 aspect ratio. Expect the same dynamite Dynamic AMOLED 2X panel quality, just more expansive for all your quick tasks.
Both displays are now more durable too, with Gorilla Glass Victus+ for increased scratch resistance. And the phone itself is IPX8 water-resistant, so no need to freak out over spills!
Under the cover lies Qualcomm's scintillating new Snapdragon 8 Gen 2 chip, providing flagship power for all your multitasking and gaming needs. You can spec your Z Fold 5 all the way up to 1TB of storage and 12GB RAM for maximum productivity.
Samsung also outfitted the Z Fold 5 with an advanced cooling system to keep temps in check. So you can keep on folding and scrolling without throttling.
Now let's talk productivity boosts. The Z Fold 5 runs Samsung's refined One UI 5.1.1 interface atop Android 13. We're talking new multitasking features like Dual Hand Drag and Drop to easily share elements between apps with one-handed control.
There's also an improved taskbar to help you seamlessly bounce between frequently used apps. Samsung is clearly doubling down on foldables as productivity powerhouses – not just novelty devices.
Cameras? Still excellent. A versatile triple lens setup on back – same as the Z Fold 4. Plus, Samsung made the front under-display camera even more invisible. Your selfies will look flawless on that 7.6-inch inner screen.
With jaw-dropping upgrades across the board, Z Fold 5 to deliver Samsung's sleekest folding phone experience yet for just $1799, Samsung Limited time pre-order offer: Get a free storage upgrade, 512 GB just $1799.
Pre-orders start today in select markets, and the Z Fold 5 starts shipping August 11. Will you be upgrading? Because Samsung's new shape-shifting marvel sure has us folding with excitement!
EDITOR PICKED:
Samsung Unveils Epic Galaxy Tab S9 / S9+ & S9 Ultra with Dynamic AMOLED 2X Displays