The latest buzz from the Apple rumor mill suggests the tech titan will rearrange the layout of the rear camera on the upcoming iPhone 15 Pro Max to make room for a periscope zoom lens. While the Pro Max model will sport the periscope telephoto lens, the more complex periscope system requires more internal space, forcing Apple to shuffle the lens locations out of necessity.
The iPhone 14 Pro featured a 48-megapixel main camera in the top left, a 12-megapixel telephoto in the top right, and a 12-megapixel ultra-wide-angle lens on the bottom. On the iPhone 15 Pro Max, the positions of the periscope telephoto and ultra-wide-angle have apparently been flipped.
So what tech is Apple using to achieve 6x optical zoom with a periscope telephoto? According to reports, Apple will build an internal prism that can bend the path of light. As light enters the camera, the prism folds it so it hits the camera sensor horizontally. This allowed Apple to place the telephoto sensor horizontally inside the device to get a longer focal length.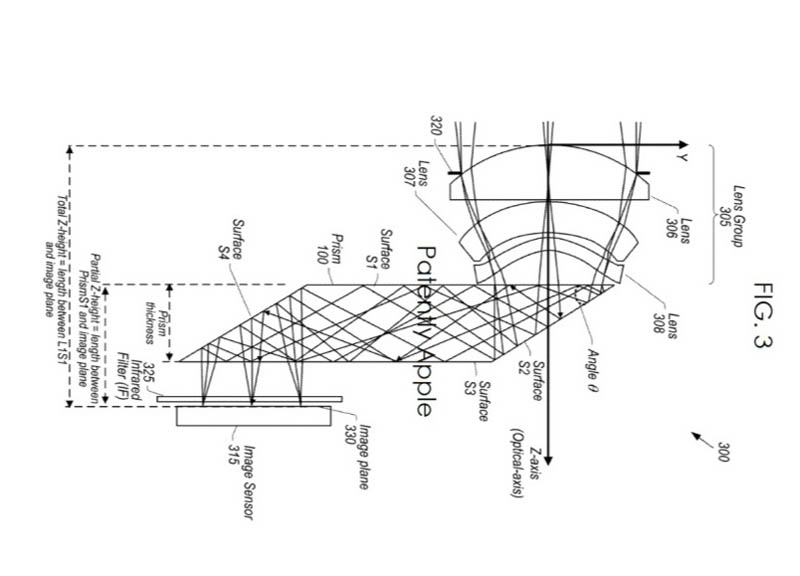 EDITOR PICKED: Get Ready for Apple's iPhone 15 Pro: Everything You Need to Know
Judging by the leaked periscope telephoto structure – circular lens plus two prism reflections with the CMOS sensor on the bottom – why are periscope lenses square? The reason seems to be that the lens uses D-cut shaping to reduce the thickness and volume of the periscope module, though at the cost of lens quality, increased glare, and degraded edge quality.
To sum up, Apple split the lens, reflective prism, and sensor into three sections and sandwiched them together, retaining a complete circular lens – essentially a variant of the vertical telephoto. However, the downsides are also obvious: an additional prism reflection and an enormous module, according to patents, measuring 25.13mm long, 10mm wide, and over 13.85mm thick, lens structure alone is 7.73mm.