Qualcomm has taken the wraps off its latest generation of Snapdragon gaming chipsets, comprising the G1, G2, and G3x Gen 2 series. The new platforms aim to power a range of handheld, mobile, and cloud gaming experiences.
The Snapdragon G3x Gen 2 represents Qualcomm's most powerful and ambitious gaming chip yet. It packs an 8-core CPU based on ARM's new Cortex-X3 CPU cores and an upgraded Adreno GPU that is approximately 30% faster than the one in the Snapdragon 8 Gen 2 smartphone chip.
Qualcomm claims the G3x Gen 2 can sustain up to 15W for extended gaming sessions. It also supports Wi-Fi 7, 5G mmWave connectivity, and FHD+ 144Hz displays to enable responsive cloud gaming and live streaming while on the go.
So far, companies like AyaNeo, Razer, and Huaqin are working on devices harnessing the Snapdragon G3x Gen 2's power. Qualcomm itself showed off a slick reference design handheld with a 6.8″ screen, 12GB RAM, and 256GB storage.
The Snapdragon G2 targets optimized mobile gaming experiences, while the G1 focuses on cloud game streaming and remote play. Both also feature hardware improvements over first-gen models.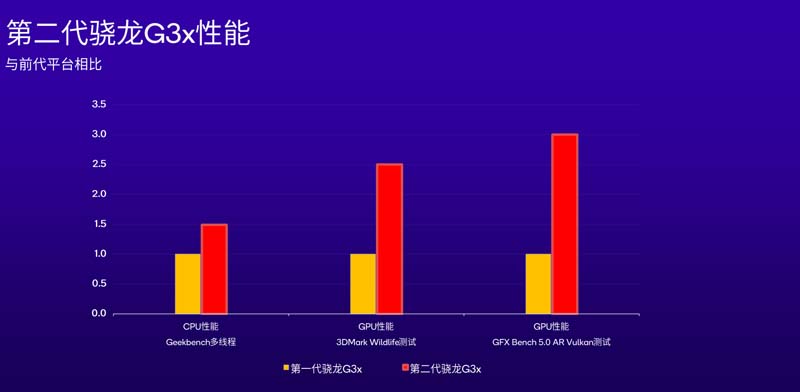 However, the success of these gaming platforms remains uncertain. The original G3x saw limited adoption in 2022, only powering the niche Razer Edge 5G so far. And with the Snapdragon 8 Gen 3 on the horizon, (Snapdragon 8 Gen 3 Benchmark Scores Reveal Beefy Performance Gains), Qualcomm's gaming chips again risk lagging behind flagship Android performance.
But with hardware improvements and OEM interest, the second-gen G3x could find its footing as a versatile cloud/handheld gaming platform. As samples ship to manufacturers, we'll have to wait and see what products emerge heading into 2023.
EDITOR PICKED: Snapdragon 8 Gen 3 New Powerhouse Chips: Multi-Core Score Better Than Apple A16