The next-gen flagship chipset from Qualcomm is shaping up to be a real beast, according to early Geekbench results for the Snapdragon 8 Gen 3 recently spotted in the wild. The new scores provide our first glimpse into the performance improvements coming to Android's top-tier devices next year.
Snapdragon 8 Gen 3 New Powerhouse Chips: Multi-Core Score Better Than Apple A16
Tested in a Samsung Galaxy S24 Plus prototype packing 8GB of RAM, (based on an earlier version of the Snapdragon 8 Gen 3), and the results are impressive, the Snapdragon 8 Gen 3 notched an impressive single-core score of 2233 and a multi-core score of 6661. For reference, that's an 11.4% single-core and 26.3% multi-core increase over the current Snapdragon 8 Gen 2 chip.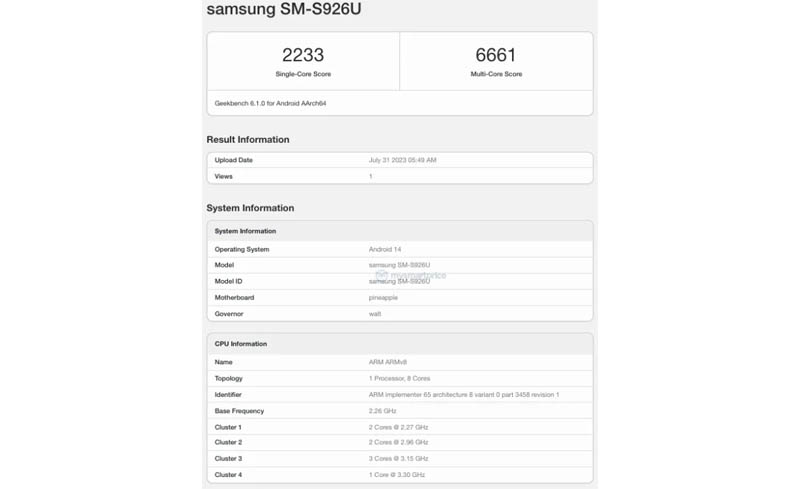 Under the hood, the Snapdragon 8 Gen 3 is built on TSMC's 4nm process and features four next-gen Kryo cores: a prime core clocked at 3.36GHz, three performance cores at 2.75GHz, and four efficiency cores at 2.0GHz. The chipset also packs an upgraded Adreno 740 GPU.
The killer multi-core gains come thanks to those juiced up prime and performance cores. Qualcomm really cranked things up when designing its next-gen CPU, and these early benchmarks prove it.
While we'll have to wait for real-world testing to get the full picture, the Snapdragon 8 Gen 3 already looks like it'll be a formidable silicon powerhouse. Especially considering its single-core score handily beats the 4nm Dimensity 9200 chip from MediaTek.
With the annual Snapdragon Summit just around the corner in November, we won't have to wait long for official details from Qualcomm itself. And you can bet Android OEMs are already licking their chops getting flagship devices ready to showcase the new chipset. Exciting times ahead!
EDITOR PICKED:
Qualcomm Snapdragon 4 Gen 2 Chipset Brings Big Upgrades to Budget Phones
Qualcomm launches Snapdragon 7+ Gen 2 Mobile Platform