Apple has quietly enabled spatial video capture support for the iPhone 15 Pro and Pro Max in the latest iOS 17.2 beta 2 release, new capability at features coming in the Apple Vision Pro AR/VR headset in 2024.
Though Apple has not announced the Vision Pro yet, iOS 17.2 adds a "Spatial Video for Apple Vision Pro" toggle in Settings. When enabled, the iPhone 15 Pro models can record video with depth data for stereo 3D effects.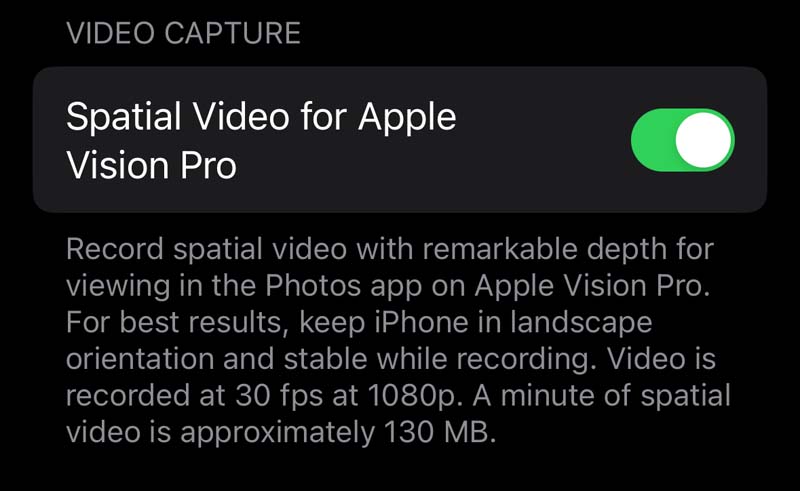 The spatial video setting allows the iPhone 15 Pro's rear cameras to capture clips at 1920 x 1080 resolution and 30 fps and minute of footage takes about 130MB of storage. Apple notes videos should be shot in landscape orientation to maximize the spatial effect.
The depth-enabled spatial video recordings will allow content to take on an immersive 3D look and feel when viewed through the Vision Pro headset's stereoscopic displays and spatial audio.
Users are reporting that spatial videos captured on iPhone 15 Pro look like normal 2D videos when viewed on the smartphone itself or other devices, depth information does not yet translate to visual parallax effects without the Vision Pro hardware.
"Is there anything cool about viewing it now or do we have to have the Vision Pro to even see its spatial stuff? I would hope for at least some parallax when wiggling your phone," commented one Reddit user.
According to Apple, the spatial effects will remain dormant until the video is viewed in visionOS. Vision Pro is expected to drive visionOS features like spatial awareness, 3D overlays, and shared augmented experiences. Specialty video formats optimized for visionOS will provide next-level immersion.
For now, the iOS 17.2 beta provides an early glimpse into Apple's future vision for spatial computing. Enabling depth capture on iPhone 15 Pro hints at the fusion of technologies across Apple's hardware and software ecosystems.
The company is steadily laying the groundwork for its entry into hybrid augmented and virtual reality. Spatial video support on iPhone 15 Pro will allow users to create immersive content ready for Apple's eventual AR/VR Vision Pro headset launch.