After two and a half years, Apple has refreshed its popular 24-inch iMac lineup with the new M3 chip, offering major performance gains. Latest models can be configured with up to a 12-core GPU and 24GB of unified memory while retaining the same slim 4.5K Retina display design.
M3 chip provides a nearly 2x speed increase over the previous M1 iMac, thanks to faster CPU cores and up to 12 GPU cores. Both the M3 and M3 Pro chips are available, so users can scale performance for their needs, new M3 Pro option supports up to 24GB of unified memory for running intensive creative apps.
While the exterior remains unchanged, the 24-inch iMac display has been improved. It still features 11.3 million pixels and a wide P3 color gamut, but now has a brightness of 500 nits, perfect for color-critical work, 1080p FaceTime HD camera, studio mics, and six-speaker sound system also return.
This makes the iMac a formidable machine for creative pros who need power, vivid color accuracy, and excellent video conferencing capabilities in a stunningly thin all-in-one design, M3 processor propels the 24-inch iMac even further as a productivity and creativity powerhouse.
M3 iMac ship with the updated macOS Sonoma, which brings greater iPhone integration like seamless photo browsing, messaging, and more. Safari on the M3 iMac is now up to 30% faster thanks to the performance gains, so users can browse hundreds of tabs with ease.
With the boost from the M3 chips alongside macOS optimizations, the new 24-inch iMac promises lightning fast everyday tasks and snappy creative workflow performance – from compiling code to editing 4K video, fluid Apple silicon experience shines on the M3 iMac.
In terms of design, Apple is offering the same range of seven vibrant colors – blue, green, pink, silver, yellow, orange, and purple. The four-port models with two additional USB-C ports have all color options, while the two-port configurations are limited to blue, green, pink, and silver.
From Apple official page, new iMac includes a USB-C to Lightning cable, implying that they didn't move to USB-C on the magic accessories yet.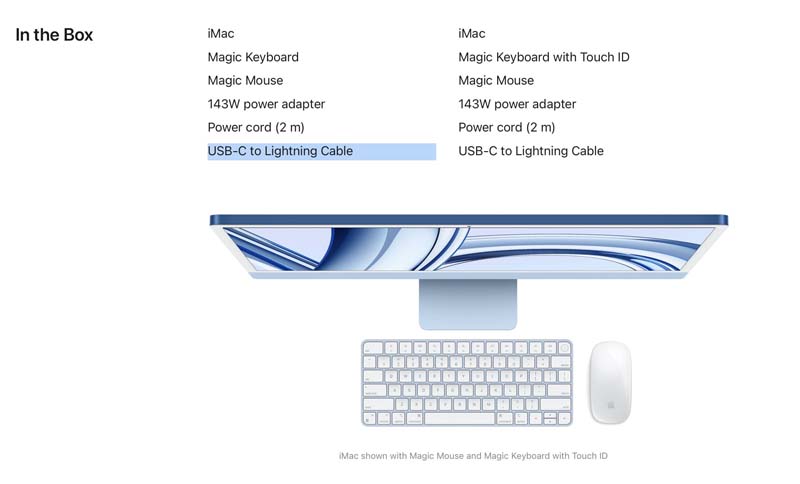 Pricing remains similar with the two-port 24-inch iMac starting at $1,299 and four-port model at $1,499. Overall, creatives, students, and general users looking for a capable and stylish Mac should find excellent value in the latest M3-powered 24-inch iMacs.
The update shows Apple's commitment to the 24-inch form factor as its mainstream consumer offering. With its sleek thin profile and pop of color, the iMac brings Apple's impeccable design ethos to the desktop. Now with up to two times better performance thanks to the M3 silicon, Apple's iconic all-in-one continues to shine.
EDITOR PICKED: Apple Unveils M3 MacBook Pro: Faster Chips, Mini-LED Displays, Up to 36GB RAM