At its September 12th event, Apple unveiled the highly anticipated iPhone 15 Pro series, flagship models deliver expected changes like a titanium chassis, redesigned physical buttons, upgraded cameras, and the long-awaited switch to USB-C.
iPhone 15 Pro and Pro Max Sleek New Titanium Design
As predicted, the iPhone 15 Pro and Pro Max models adopt an all-new titanium frame for enhanced durability and lightweight. Apple states the premium phones use the same grade 5 titanium featured on Mars rovers.
The increased hardness and corrosion resistance improves ruggedness while enabling the lightest iPhone Pro models ever at just 187g for the 15 Pro and 221g for the Pro Max. This aids heat dissipation and comfortable long-term use.
Apple pairs the titanium alloy perimeter with an internal aluminum frame using advanced thermal-mechanical bonding techniques. This reinforced aluminum skeleton supports the display and internal components for optimal structural integrity.
By leveraging 100% recycled aluminum, Apple also increases overall recycled material content. The precisely polished titanium sides allow slimmer edges than previous stainless steel iPhones.
The familiar side button is redesigned but retains default functionality like switching ring/silent modes. It now supports customization to instantly open apps like Camera, Flashlight, or Focus modes. Third-party apps can also be assigned.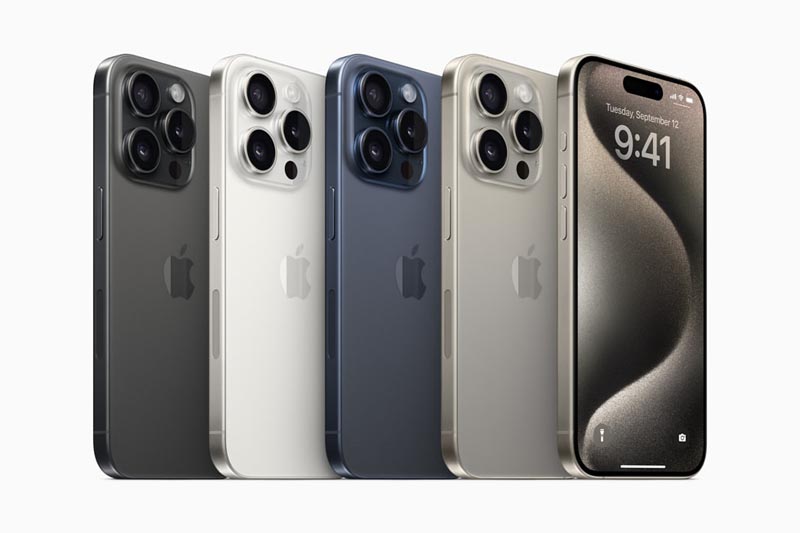 Long-Awaited Arrival of USB-C Connectivity
After years of rumors, the iPhone 15 Pro line finally adopts USB-C 3 in place of Lightning. This enables faster 10Gbps data transfers, up to 20x quicker than Lightning's limit of 480Mbps.
The versatile USB-C port allows convenient connectivity with external displays and accessories. Direct camera imports into editing apps become seamless. USB-C unlocks professional workflows like ProRes 4K video capture at 60fps natively or recording to external devices.
Apple also introduces a new Log video format for the first time based on Academy Color Encoding System standards used for theatrical releases. This expands the 15 Pro's capabilities as a mobile production studio.
However, the USB-C port stops short of providing increased charging speeds. Apple maintains the same 50% charge in 30 minutes claim as previous models using the company's 20W USB-C power adapter. The slower charging prevents potential battery degradation from overly fast charging.
Upgraded A17 Chip Powers New Camera Capabilities
The iPhone 15 Pro series adopts Apple's latest A17 Pro chip built on an enhanced 3nm process with nearly 20 billion transistors. The 6-core CPU and 5-core GPU gain efficiency improvements, while the 16-core neural engine handles up to 17 trillion operations per second.
Apple claims the A17 GPU provides up to 20% faster graphics for smoother gameplay. Support for ray tracing accelerates by up to 4x for next-level lighting realism in titles leveraging the technology.
Console-quality iOS games like Resident Evil 4, Resident Evil Village, Death Stranding, and Assassin's Creed Codename Red were announced to showcase the hardware's potential, A17 learning power also enables clever photographic features.
macOS Sonoma Experience: Visual Overhaul with Exciting New Features
Pro Camera Upgrades: 5x Zoom, Photographic Styles, Better Low Light
The iPhone 15 Pro Max features an exclusive upgraded camera system with a 5x optical zoom range. This uses a periscope lens with folded optics to allow 5x magnification without increasing physical size. A four-element lens design prevents aberrations.
Apple's sensor-shift optical image stabilization now makes up to 10,000 focus adjustments per second, double the previous model. This enables steadier zoom performance across the entire 5x range from 13mm to 120mm. Macro capability down to 2cm is also supported.
Meanwhile, the iPhone 15 Pro retains the 3x optical zoom camera going up to 77mm. Both models gain a next-gen Photographic Styles feature that leverages Apple's image processing prowess. It automatically recognizes people, pets, and scenery to intelligently adjust focus and blur after capture.
Low light photography sees a boost with claimed improvements up to 2x better brightness and detail versus predecessors in Night mode. Smart HDR 4 captures more accurate colors and enhanced contrast in highlights and shadows.
Later this year, the Pro iPhones will record immersive spatial videos viewable in 3D on Apple's rumored upcoming VR/AR headset for next-level effects.
Pricing and Availability
Despite the added technology, Apple maintains battery life estimates identical to last year's models. The iPhone 15 Pro and Pro Max will be available for pre-order starting September 15th. Pricing starts at $999 for the iPhone 15 Pro and $1,199 for the 15 Pro Max. The phones launch on September 22nd in four titanium color options: Space Black, Silver, Deep Blue, and Space Titanium.
EDITOR PICKED:
How to Use and Customize Standby iOS 17 turn your iPhone into a Smart Display
How to Use and Customize Standby iOS 17 turn your iPhone into a Smart Display