As a longtime Macbook user, I was experience Apple's latest 2023 edition featuring the new M3 chip iMac, spending over a week with the PC, I'm thoroughly impressed by its perfect balance of style and substance.
The most immediate aspect that stands out is the iMac's vibrant colors, came in a bold yet tasteful green hue that immediately catches the eye, white bezels and chin provide a crisp contrast, highlighting the playful pops of color.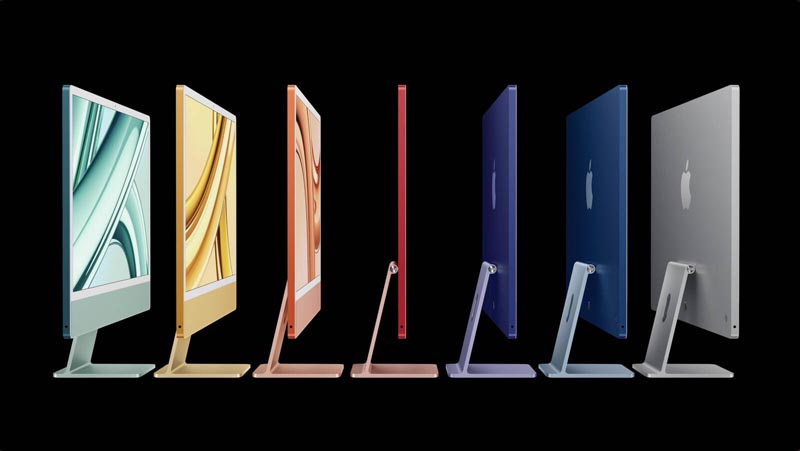 Weighing under 4.5kg and just 11.5mm thin, this iMac epitomizes refined portability. I frequently moved it between rooms and appreciate Apple's use of a magnetic power connector that easily detaches when transporting.
The stunning 24-inch 4.5K Retina display flaunts an incredible 4480×2520 resolution, 500 nits of peak brightness, True Tone support, and wide P3 color gamut coverage. It's simply the best desktop monitor I've ever used – images and videos look jaw-droppingly realistic.
My only complaint is the lack of user-upgradeable RAM on the M3 iMac 2023, but trading off access for the thin, seamless design is worthwhile.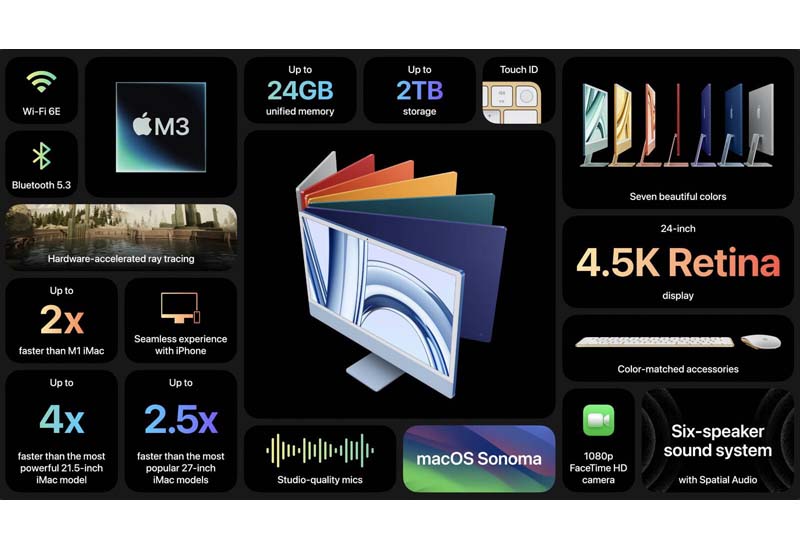 Audio quality also impresses with a high-fidelity six-speaker system. Dual force-cancelling woofers produce rich bass, while precision tweeters deliver pristine highs. Apple's adaptive audio tech dynamically adjusts balance based on content, optimizing voices or music playback.
Powering it all is Apple's latest M3 chip, which replaces the M1 in previous models, provide ample speed for everyday workflows. Apps open instantly, and Final Cut Pro exports finished 4K videos in under 40 seconds.
While not the fastest configuration, the base M3 offers a noticeable bump over M1 iMacs for an entry-level model. Moving up to M3 Pro or M3 Max chip options would deliver even more dramatic gains for professional users.
Gaming performance sees a huge boost from the M3's updated GPU architecture, in Apple Arcade played smoothly at max fidelity, which was impossible on prior iMacs and MacBooks. Casual gaming is actually viable on an iMac now.
The new hovering wrist rest design is perfect for comfortable typing over long periods. And the 1080p FaceTime HD camera captures sharp, accurately exposed video that puts my external webcam to shame.
Connectivity includes Wi-Fi 6e for fast wireless performance, plus four USB-C ports with Thunderbolt 4 for lightning fast transfers. The headphone jack is also handy for private listening.
With its sleek and slim 4.5K design, excellent display and audio, potent M3 performance, and contemporary color options, the 2023 iMac hits the sweet spot for both style and functionality. It fills the role of family computer beautifully while fitting seamlessly into modern home decor.
For creatives seeking more power, I'd love to see M3 Pro and Max custom configuration options added in future iterations. But as a do-it-all desktop for everyday users, the 24-inch M3 iMac is an easy 5-star recommendation, could very well be Apple's best iMac ever.