With the introduction of iOS 17, Standby mode display feature takes their iPhone to new heights. Now, it can also serve as a bedside clock, calendar, photo album, and even a music controller. How to use and customize Standby mode to make the most out of your iPhone's smart display capabilities.
iOS 17 has finally arrived, and along with exciting new features like updated lock screens and wallpapers, it also brings a highly anticipated update: contact posters, How to Make the Most of iOS 17 Contact Poster Feature on Your iPhone
Getting Started with Standby Mode
To get started, lock your iPhone, plug it in, and place it in landscape orientation. Your device will automatically enter the Standby display interface. Here, you can access the clock, widgets, photos, and more by tapping the screen. Enabled by default, this feature is compatible with any iPhone that can run iOS 17.
Customizing Your Standby Views
To add or remove widgets, press and hold on any of them. You can also customize the other Standby views by pressing and holding on them. Swipe from right to left to change views on the first Standby view, while the other views offer further customization options. Standby mode supports Live Activities, Siri, incoming calls, and larger notifications. It even remembers your "preferred view" and dims to red at night.
Three Frameworks for Standby Mode
There are three Standby frameworks you can switch between: the widget view, the electronic photo album view, and the time view. You can customize the screens you want to display within the default three frameworks and switch between them by swiping left or right.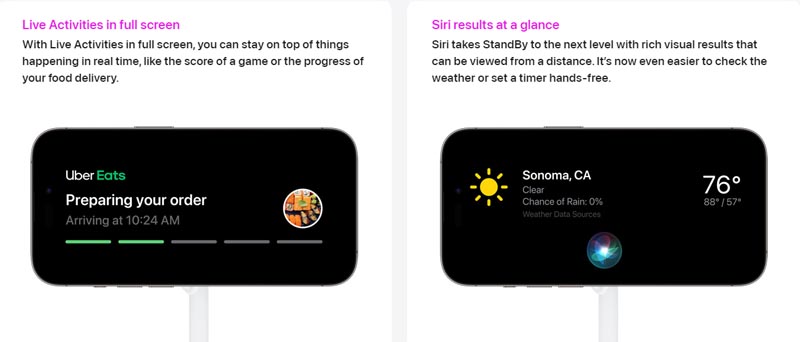 Widgets View
The default view focuses on time and tasks, divided into two parts. Switch between different clock styles and widgets such as calendar, reminders, weather, and stocks. Add other desktop widgets and smart rotation suggestions, creating a side-by-side widget experience.
Photo Album View
Select which albums to display and enjoy a slow zoom in on the pictures. Time and location information appears on the left side of the screen. Accessing your photo album requires unlocking your iPhone, but this can be done in landscape orientation from iOS 16 onwards.
Time View
Choose from five different clock styles: DIGITAL, ANALOG, WORLD, SOLAR, and FLOAT. Each style supports custom colors and displays alarms, calendars, and other information in appropriate locations, making it an ideal desktop clock.
Staying Connected
Even in Standby mode, you can receive useful information at all times. Notifications, Live Activities, Siri, and music players can be displayed in full-screen landscape format or minimized to a circular thumbnail at the top center of the screen.
The Standby mode in iOS 17 adds a new dimension to iPhone functionality, allowing it to blend seamlessly into your daily life. Just a glance is enough to access various information, even from a distance. For iPhone 14 Pro series users with always-on display enabled, the Standby page is always available. When you pick up your iPhone and hold it vertically, it will immediately return to the classic lock screen page.
WWDC23 Editor Picked:
Apple Unveils the Vision Pro: A Game Changer in Spatial Computing
Apple Watch Takes Health to the Next Level with watchOS 10!
Unlocking iPadOS 17: Personalized Lock Screens, Interactive Widgets, and More
Apple macOS Sonoma Update Interactive Desktop Widgets, Safari, Video Conferencing