Micron has just announced its first-ever storage chip meeting the UFS 4.0 specification, promising to make smartphones equipped with this module the fastest devices to date.
Micron's UFS 4.0 storage chips is set to grace flagship smartphones, tablets, and ultra-low-power laptops later this year. Besides offering a performance boost compared to previous-generation products, the new generation also boasts a 25% increase in energy efficiency—a win-win for gadget lovers and the environment.
The UFS 4.0 storage comes in three capacities—256GB, 512GB, and 1TB—and features Micron's proprietary controller. The high-end 512GB and 1TB products utilize 232-layer 1Tb 3D TLC NAND, the first six-plane architecture NAND chip. These storage modules can deliver sequential read speeds of 4300 MB/s and sequential write speeds of 4000 MB/s, making them the highest-performing UFS storage modules for smartphones on the market.
There's more! The 256GB chip, while slightly slower than its 512GB and 1TB counterparts, still packs a serious punch as it uses four-plane 3D NAND chips. Micron's UFS 4.0 module employs two M-PHY Gear 5 channels for data transfer and supports proprietary firmware features such as Data Stream Separation, Auto Read Burst, and Eye Monitoring.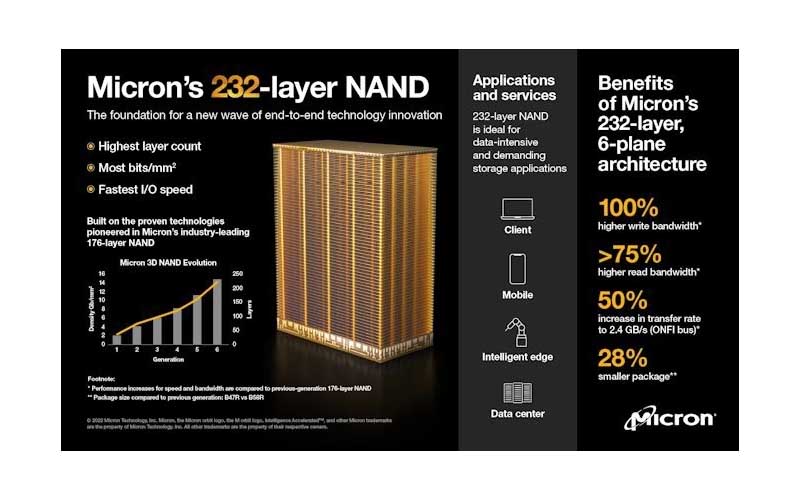 Mark Montierth, Vice President and General Manager of Micron's Mobile Business Unit, had this to say about their latest innovation: "Micron's latest mobile solution tightly integrates our industry-leading UFS 4.0 technology, proprietary low-power controllers, 232-layer NAND, and highly configurable firmware architecture to deliver unparalleled performance."
And it's not just about speed—thanks to the high-capacity 232-layer 3D TLC NAND chip, Micron's UFS 4.0 module is incredibly thin. With a z-height of just 0.8-0.9mm, smartphone manufacturers can either slim down their designs or make room for beefier batteries.
Micron is currently providing its UFS 4.0 samples to major smartphone manufacturers, and it expects these products to be mass-produced and applied to various terminal flagship phones in the second half of this year.