With the November 21 launch of AMD's Ryzen Threadripper 7000 series looming, early reviews diving into the performance of the high core count desktop chips highlight potent rendering capabilities but tradeoffs in some workloads versus the latest from rival Intel.
Built on AMD's advanced 5nm Zen 4 architecture, the upcoming lineup stretches up to 64 cores and 128 threads in the flagship 7980X model, the series ushers in support for key next-gen specs like PCIe 5.0 and high speed DDR5-5200 memory as well.
AMD-sponsored overclocker Sampson has pushed the Ryzen Threadripper PRO 7995WX processor past 5GHz after switching to extreme water cooling, breaking several world records in the process, Threadripper PRO 7995WX set new world records in benchmarks like Cinebench R15, R20, R23, and 2024. It also claimed the top spot for the GPUPI high performance computing benchmark.
According to sites like AnandTech and ComputerBase which analyzed top-end Threadripper 7000 models, AMD's new workstation-focused processors shine when leveraging all their cores for parallel 3D rendering workloads. Benchmarks like Cinebench, V-Ray, Blender and more show commanding multi-threaded performance.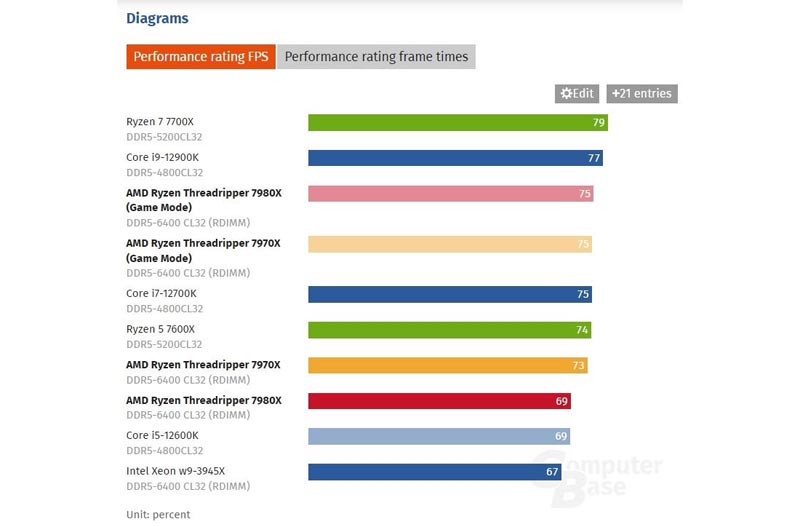 However in tests involving video encoding/transcoding, the chips fall slightly behind Intel's just-released Xeon W9 family in some scenarios, while compute-intensive scientific modeling yields mixed results. AI and neural net training performance also lags rivals in certain cases.
An advantage over previous gen Threadrippers comes in the gaming department though. Thanks to the shift to Zen 4, clock speeds now scale significantly higher, reaching up to an astonishing 5.7 GHz boost.
This allows the Threadripper 7000 series to offer gaming frame rates comparable to modern mainstream Ryzen desktop chips. Activating "Gaming Mode" to disable unneeded cores enables performance nearing Intel's top Core i9-12900K gaming CPU.
As expected, power efficiency doesn't match mainstream processors. Even at idle, the 350W Threadrippers consume 80-95+ watts. Load power draw spikes above 480 watts. But for primarily desktop use, this extreme performance class remains compelling.
With leadership core counts paired with latest memory/PCIe support, AMD's new Threadripper family brings new muscle to traditionally intensive workstation-geared applications. Gaming prowess also reaches new levels for extreme multi-tasking PC builds.
However, performance inconsistencies in certain workloads illustrate AMD still faces optimization work, particularly in AI-infused environments. This leaves room for Intel to compete in areas like advanced media creation. But in core counts, AMD still dominates.
Related Posts: Intel Ultra 7 155H Processors, Bringing Major Upgrades to Laptop Performance