Apple CEO Tim Cook recently visited Chengdu, China and took to Weibo to share his experiences, posted a stunning photo captured with an iPhone 15 Pro Max of Chengdu's historic Anshun Bridge, greeting the city enthusiastically.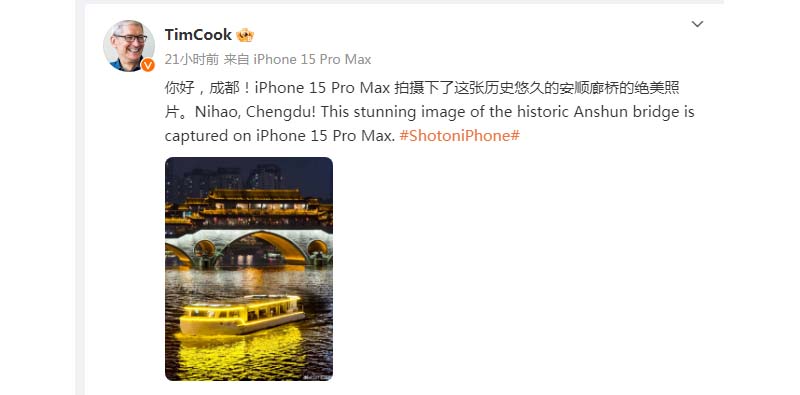 According to local reports, Cook drew crowds of onlookers at the Chengdu Taikoo Li shopping area. Residents greeted the tech CEO, taking photos and making the popular "scissors hand" pose. Cook even joined locals in playing the hit Chinese mobile game "Honour of Kings" at the Apple store.
In an interview, Cook expressed high hopes for Chinese developers working on VisionPro and AR. He mentioned an Apple team in Shanghai already building VisionPro apps that are sure to prove popular. Cook appears excited about China's potential in these areas.
The Apple chief also made time to visit rural Sichuan. He donated an additional 25 million RMB to support farmers in learning new skills and provide technological resources to empower students and teachers in rural areas. This adds to Apple's past poverty relief efforts in China.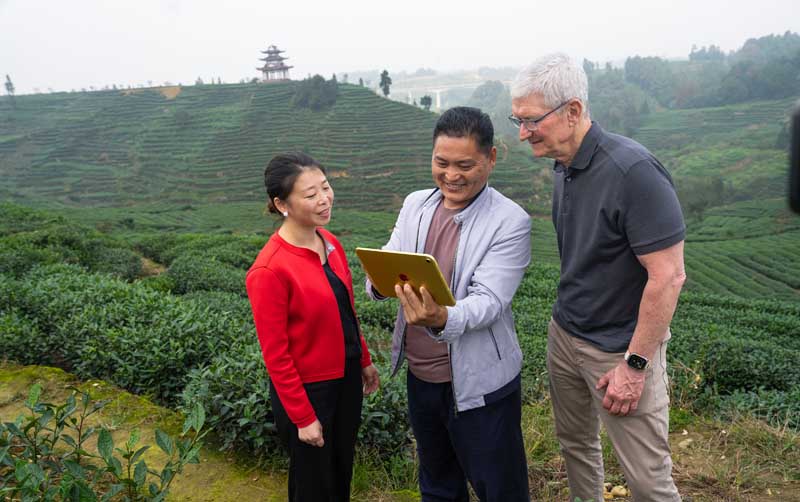 Cook's visit to Chengdu highlights Apple's strong brand presence in China. As its second largest market, Cook makes an effort to connect with consumers and experience local culture first-hand during his travels.
At the same time, he never misses an opportunity to highlight Apple's latest devices. The stunning Anshun Bridge photo captured with the iPhone 15 Pro Max shows off its photographic capabilities.
For Apple, having its CEO directly engage Chinese users helps build brand loyalty and goodwill. Cook's hands-on approach allows him to evaluate opportunities and drive growth in this critical market. His visit to Chengdu combined PR, philanthropy and vital consumer insights as Apple seeks to strengthen its position in China.
EDITOR PICKED:
Apple CEO Tim Cook Visits miHoYo, Praises Genshin Impact Team
Tim Cook Meets with Beijing Developers to Discuss iOS Apps and Games
In Staff Email, Tim Cook Hails Apple Vision Pro as a History-Making Spatial Computer