Apple macOS Sonoma update brings a range of new features and improvements to Mac users. From interactive desktop widgets to personalized Safari profiles, this update offers a more customized and user-friendly experience. Additionally, video conferencing and messaging features have been enhanced, making it easier for users to connect and collaborate remotely. Gizmoweek's take a closer look at some of the key updates in macOS Sonoma and what they mean for Mac users.
Interactive Desktop Widgets
Widgets have been a part of the Mac experience for some time, but in macOS Sonoma, they have been taken to the next level. Desktop widgets can now be interacted with directly, allowing users to check off completed tasks, for example. What's more, any iPhone widget can be added to the desktop without needing to install the corresponding app on the Mac. This means that users can access their favorite widgets without needing to clutter their Mac with additional apps.
To help users stay focused on their work, the system will adjust the transparency of the widgets and wallpaper when users open app windows or use foreground scheduling. This ensures that users can stay productive without being overly distracted by their desktop widgets.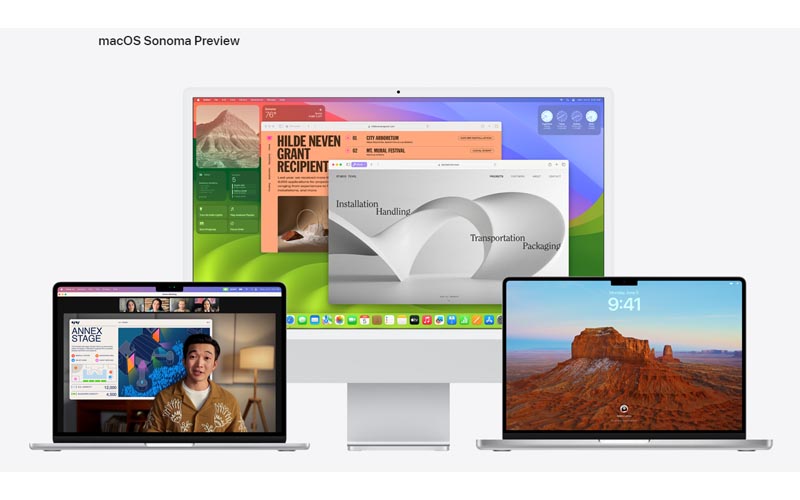 Safari
Safari has long been a staple of the Mac experience, and in macOS Sonoma, it has been given some exciting new updates. One of the most significant changes is the introduction of Safari profiles. With this feature, users can save different settings for different scenarios, such as work or personal use. This allows for multi-account functionality within Safari, making it easier for users to switch between different accounts and browsing modes.
Safari has also enhanced the privacy protection of incognito browsing windows. If an incognito browsing window is inactive for a certain amount of time, Safari will automatically lock the window and prevent web trackers from loading. Additionally, Safari supports creating web pages as standalone applications that can be dragged into the dock for easy access.
Better Video Conferencing and Messaging
macOS Sonoma has made significant improvements to video conferencing and messaging features. When sharing screens, presenters can overlay their own video on top of the shared screen, making themselves the focus of the presentation. This can help achieve a similar effect to an in-person talk and make presentations more engaging.
Users can now select what they want to share directly from the app window's upper left corner when sharing screens. This simplifies the sharing process and makes it easier for users to share the content they want. Additionally, other participants' videos will float on top of the shared screen to avoid blocking the content. Users can also trigger visual effects, such as confetti or fireworks, to express their appreciation for the content during a presentation.
The messaging app in macOS Sonoma has also received some significant updates. New combined condition filters make it easier for users to find the desired content quickly. There is also a button to jump to the first unread message in the app interface, making it easier to catch up on conversations. Users can share and view location information in the messaging app, and stickers that were previously only available on iPhone and iPad can now be used on Mac through iCloud sync.
Other Updates
In addition to the updates outlined above, there are several other changes worth noting in macOS Sonoma. Screen savers have been updated to include scenic videos from various locations around the world. In Preview, users can use the autofill feature to fill in personal information when opening PDF documents, and in the Notes app, there are new note links that allow different notes to be linked together.
A new game mode has been added that optimizes the CPU and GPU for improved gaming performance and reduces wireless controller latency. The new lock mode helps prevent potential network attacks. The screen sharing app has added a high-performance mode to make remote access to Macs smoother.
iPadOS 17 also supports new features from iOS 17, such as improved messaging and Notes app functionality, Safari's focus mode, and Passkey support.
If you're a Mac user, be sure to check out the new features and see how they can improve your productivity and enjoyment of your Mac.
EDITOR PICKED:
Apple Unveils the Vision Pro: A Game Changer in Spatial Computing
Apple iOS 17 With New Features and Changes to Communication and Collaboration
Apple Watch Takes Health to the Next Level with watchOS 10!
Unlocking iPadOS 17: Personalized Lock Screens, Interactive Widgets, and More