Apple's latest iPadOS 17 brings a plethora of innovative features, focused on enhancing customization and user experience for iPad users. From personalized lock screens and interactive widgets to an optimized Health app. Last month, Apple brought its own editing tool, Final Cut Pro for iPad, and audio creation tool, Logic Pro, to the iPad platform. iPadOS 17 is set to revolutionize the way you use your iPad. enjoy into the details of these exciting new features.
Personalized Lock Screens
With iPadOS 17, Apple is taking personalization to a whole new level by allowing users to customize their lock screen. You can now adjust the font weight of the clock and choose from an array of beautiful kaleidoscope wallpapers that were first introduced in watchOS. iPadOS 17 also offers stunning new planet wallpapers that adapt to the iPad screen size, featuring all the planets in our solar system.
But the customization doesn't stop there. Thanks to the power of neural networks, iPadOS 17 can extract suitable segments from Live Photos and use them as dynamic wallpapers, giving you even more ways to personalize your iPad.
Interactive Widgets
The new iPadOS 17 comes with a major overhaul of widgets, transforming them into interactive tools that streamline your daily tasks. Instead of merely serving as shortcuts to the corresponding apps, widgets now let you directly interact with their functions. Whether you're marking items off your to-do list, controlling your smart home devices, or switching songs, interactive widgets make it all possible without leaving the home screen.
These revamped widgets are not only available on the main interface but also integrated into the new lock screen layout. Positioned on the left side of the lock screen, they provide easy access and operation while holding your iPad with both hands.
A Healthier, Happier You with the New Health App
After years of anticipation, the Health app finally arrives on the iPad with iPadOS 17. Tailored to the larger screen size and aspect ratio, the Health app displays a wealth of information in a visually appealing and easy-to-read format. Now, you can effortlessly review your health records and monitor trends, all on your iPad.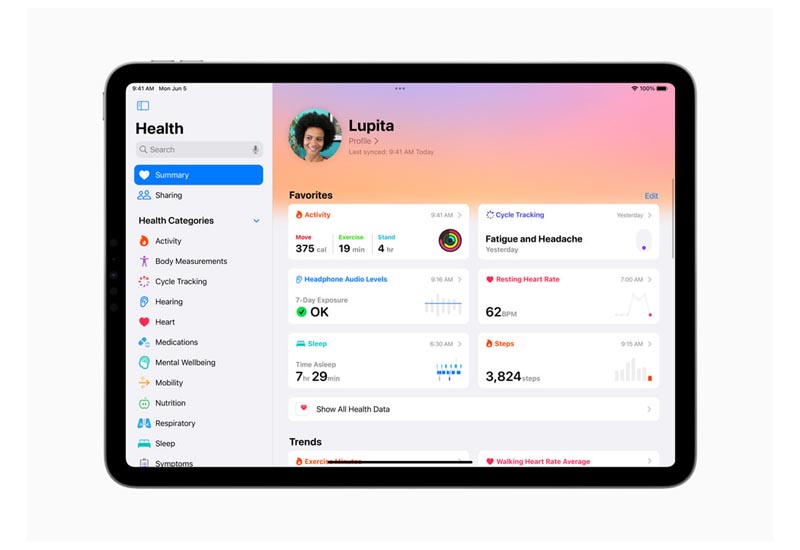 Notes App
iPadOS 17 takes the default Notes app up a notch with several enhancements. For compatible iPad models, the app uses neural network engines to automatically detect fillable areas in imported or scanned PDF documents, converting them into interactive layouts. Furthermore, you can now insert, annotate, and embed hyperlinks to other notes within PDF documents.
The improved collaboration features make the Notes app more user-friendly than ever, making it the perfect tool for personal and professional use.
Seamless Integration and Enhanced Functionality
With iPadOS 17, Apple has made strides in foreground scheduling and device interconnectivity within its ecosystem. The updated foreground scheduling allows for greater flexibility in adjusting the size and position of app windows. Additionally, specific iPad models can now use the camera of external displays, like the Studio Display, when connected.
On top of these iPad-exclusive features, iPadOS 17 also supports a range of improvements found in iOS 17, such as enhanced messaging, FaceTime special effects and video messages, Safari focus mode, and Passkey support.
Go! Update
Apple's iPadOS 17 is a better experience in personalization, efficiency, and convenience. With features like personalized lock screens, interactive widgets, an optimized Health app, and a revamped Notes app, iPad users can look forward to an unparalleled tailored to their preferences and needs. Are you ready to unlock the full potential of your iPad with iPadOS 17?
EDITOR PICKED:
Apple Unveils the Vision Pro: A Game Changer in Spatial Computing
Apple iOS 17 With New Features and Changes to Communication and Collaboration