In a neat showcase of the iPhone 15 Pro's videography capabilities, Apple revealed that its recent keynote announcing the new M3 MacBook Pros and M3 24-inch iMac was filmed entirely with the latest iPhone 15 Pro and Pro Max models. While professional gear still played a major supporting role, it demonstrates how far smartphone camera tech has come.
Apple published a behind-the-scenes look at the filming of its iconic product unveiling videos, often meticulously crafted to showcase the company's devices. For this event, Apple swapped its standard professional cameras for an iPhone 15 Pro attached to a Gimbal, complemented by Blackmagic RAW recording through the FiLMiC Pro app.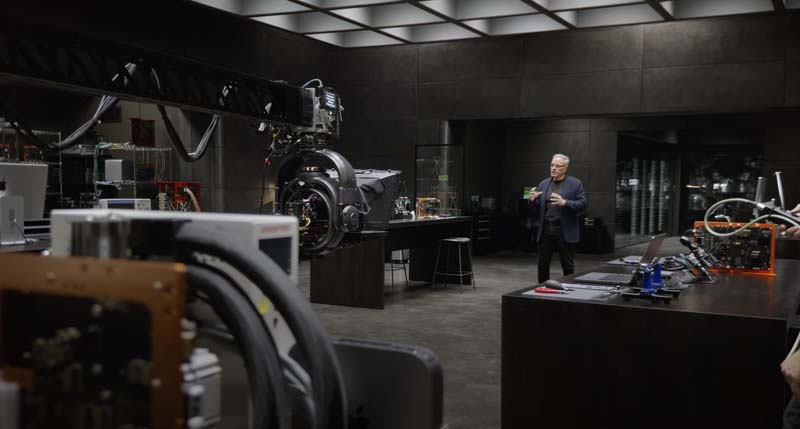 The interchangeability speaks to the quality Apple has achieved with the iPhone 15 Pro camera system, 48MP sensor and advanced processing can now stand side-by-side with dedicated cinema cameras to produce polished footage.
However, pro equipment was far from absent in the behind-the-scenes clips, every presenter wore lav mics to capture pristine audio, advanced gimbals like the DJI Ronin 2 provided stabilization for tracking shots. Set design, lighting gear, and dedicated studios enabled the iconic Apple production aesthetic.
While the iPhone 15 Pro served as the principal camera, Apple's productions leverage an array of professional tools to elevate the cinematography to Hollywood levels. From mounted EasyRigs to customized loupes, no detail is overlooked.
The lighting in particular stands out, Apple's production team demonstrates a masterclass in crafting the perfect lighting for every scene and subject. Meticulous control over light placement, diffusion, color temperature, and intensity takes the moody, elegant style to the next level.
In the end, being able to swap in an iMovie and Clips for iPhone 15 Pro LOG Video demonstrates incredible progress in mobile computational photography. But it also shows there remains no replacement for true production craft. Through rigorous attention at all levels, Apple creates a captivating showcase for its latest products.
The behind-the-scenes look offers valuable insights for aspiring content creators as well. While gear matters, foundational skills in direction, lighting, audio, and editing ultimately make the difference between amateur and polished professional productions.