Apple's new iPhone 15 and 15 Plus fresh exterior designs and major camera upgrades while inheriting features like Dynamic Island from the higher-end Pro models. iPhone 15 and 15 Plus borrows some key features introduced on last year's 14 Pro lineup, including the new Dynamic Island cutout packing notifications and alerts.
The A16 Bionic chip powering the enhanced cameras and graphics also makes from the iPhone 14 Pro. However, the display still a 60Hz rate.
While gaining a long-awaited USB-C port, the 15 series is limited to USB 2.0 speeds rather than the faster USB 3 speeds exclusive to the iPhone 15 Pro line (iPhone 15 Pro and 15 Pro Max with Titanium Design, Price, Camera Upgrades, A17 and USB-C).
Refreshed Design with Color-Infused Glass
The iPhone 15 series sports Apple's new proprietary color-infused glass technology on the back. Microscopic metallic ions are fused into the glass and polished to achieve a visually distinctive semi-gloss look and feel.
Matching the refined aesthetic, the aluminum edges are now a smoothly curved profile rather than the previous hard-edged design. These changes modernize the iPhone 15 aesthetic while the color-infused glass provides enhanced durability.
The new models also gain brighter Super Retina XDR displays reaching up to 1600 nits peak HDR brightness, a boost from 1200 nits before. Outdoor peak brightness rises to 2000 nits, on par with the Pro iPhone.
Major Camera Upgrades: 48MP Main and 2x Telephoto Zoom
Apple is bridging the gap between its mainstream and pro iPhone cameras with the new iPhone 15 series. While falling short of the iPhone 15 Pro, Apple endowed the standard 15 models with more advanced photographic capabilities.
Headlining the upgrades is a larger ƒ/1.6 aperture on the main 48MP camera, letting in more light versus the smaller ƒ/1.5 aperture on iPhone 14. Meanwhile, the 12MP ultra-wide camera gains a wider ƒ/2.4 aperture over the ƒ/2.2 lens on last year's models.
Apple also introduced post-capture depth editing for portrait shots. Users can adjust the focus point and amount of background blur within the Photos app after taking the picture. It brings portrait mode flexibility previously limited to the higher-end Pro iPhone.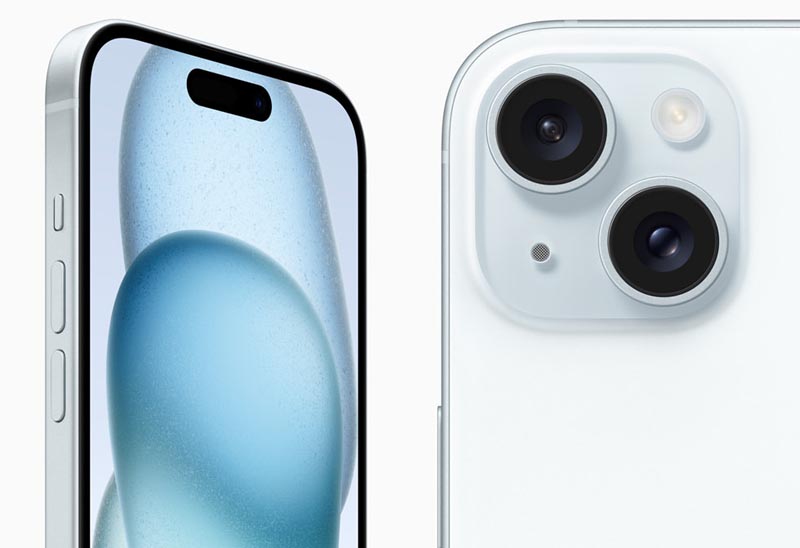 While Apple stopped short of bringing the 48MP main camera and telephoto optical zoom from iPhone 15 Pro models down to the standard variants, they deliver meaningful upgrades for average users through advanced software capabilities.
The 48MP camera combines with a new 2x telephoto lens that provides 0.5x, 1x, and 2x optical zoom levels. This gives users more flexibility when composing shots.
Pricing and Availability
The iPhone 15 will be sold in 128GB, 256GB, and 512GB storage configurations starting at $799, while the 6.7-inch iPhone 15 Plus pricing start at $899, pink, yellow, green, blue, and black color options.
Both models are available for pre-order beginning September 14th and will launch a week later on September 22th. New free leather MagSafe cases with braided textures and card holders were also revealed.
EDITOR PICKED:
USB-C Charging Finally Arrives for AirPods Pro, But Upgraders Beware
iOS 17 Tiny Features with How To: Eye Distance Reminders and Offline Maps Downloads