A teardown repair of the new iPhone 15 Pro from the YouTube channel PBKreviews has confirmed key internal specifications and revealed an intriguing design change to Apple's latest A-series processor.
The disassembly verified regulatory filings showing the iPhone 15 Pro battery capacity at 3274 mAh, slightly larger than the 3200 mAh battery in the iPhone 14 Pro.
iPhone 15 Series: A Buying Guide That's as 15 or Pro, Pro Max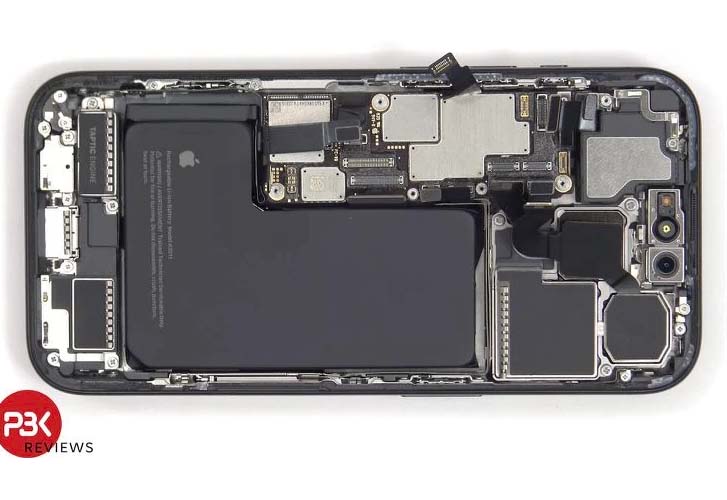 However, Apple maintains the same 23 hours of video playback runtime for both models. The increased capacity likely offsets the power demands from new features while sustaining battery life.
The teardown also showcased the redesigned mid-frame which simplifies back glass repairs compared to prior models. Users just need to heat, pry open, and re-adhere a new back glass panel.
But the most interesting find was the anonymous branding on the A17 Bionic chipset. Unlike prior A-series chips bearing clear Apple logos, the A17's aluminum package lacks any markings.
While not confirmed, this could signify Apple's rumored efforts to reduce reliance on Taiwan Semiconductor Manufacturing Company for its A-series and M-series chips. Anonymizing the chips could ease potential transitions to suppliers like Samsung.
Or Apple may simply be streamlining its packaging. Either way, the company isn't advertising the A17's manufacturing origins through prominent branding as it has in the past.
While minor externally, the anonymous A17 chip could hint at major supply chain shakeups underway inside Apple's latest generation of mobile processors. The company closely guards its chip design and production strategies, making teardown findings like this all the more intriguing.
EDITOR PICKED:
iPhone 15 Pro / Pro Max Unlock 4K 60fps ProRes Video Recording to External Drives
iOS 17 Release: Brings Upgrades to Contact Poster, Standby, Stickers, Journal app