Apple has released the stable version of iOS 17, delivering substantial updates focused on expressive messaging, intelligent display features, and enhanced creative capabilities. There's Gizmoweek listed key highlights of this major update.
Contact Poster: The Most Personalized Caller ID Display
Phone calls have traditionally conveyed primarily audio information, with limited visual customization options. But iOS 17 introduces Contact Poster, allowing you to create a personalized caller ID display poster with elements like nicknames, custom avatars, and dynamic expressions.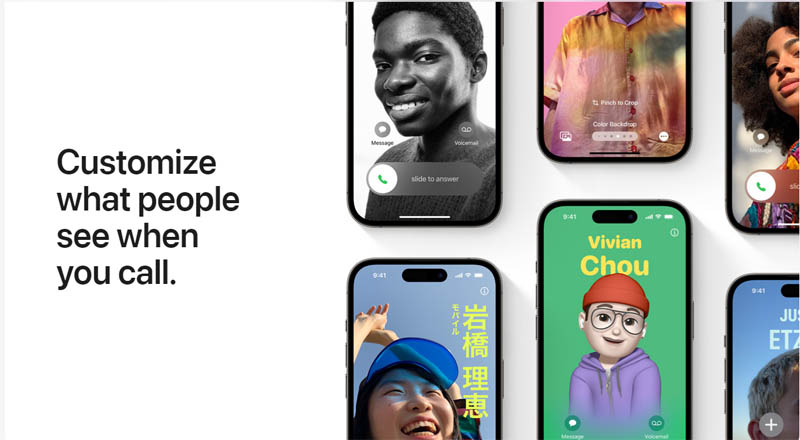 How to Make the Most of iOS 17's Contact Poster Feature on Your iPhone
When receiving a call, your poster comes to life, providing an opportunity to showcase your personality and enhance the visual experience. Your contact poster also syncs to a caller's contact list, updating them with your latest appearance.
See Voice Transcriptions in Real Time
If you're unable to answer a call while driving or in a meeting, the caller can now leave voice messages. iOS 17 automatically transcribes audio messages in real time, allowing you to read the text and decide whether to answer. No more anxiously waiting for a voicemail to finish.
Big change to your call screen
Beyond Call Posters, iOS 17 brings several other improvements to elevate the iPhone, making a big change to your call screen:
Expanded recent calls list
Optimized call interface
Direct voicemail access for unknown callers
Independent ringtones for dual SIM users
Combined with Call Posters, these enhancements make calls on iPhone more personalized than ever.
Standby: Transform Your iPhone into a Smart Display
Placing your iPhone horizontally on a wireless charger now activates the new Standby interface, converting your lock screen into an intelligent display. It's perfect on a bedside table, kitchen counter, or desk.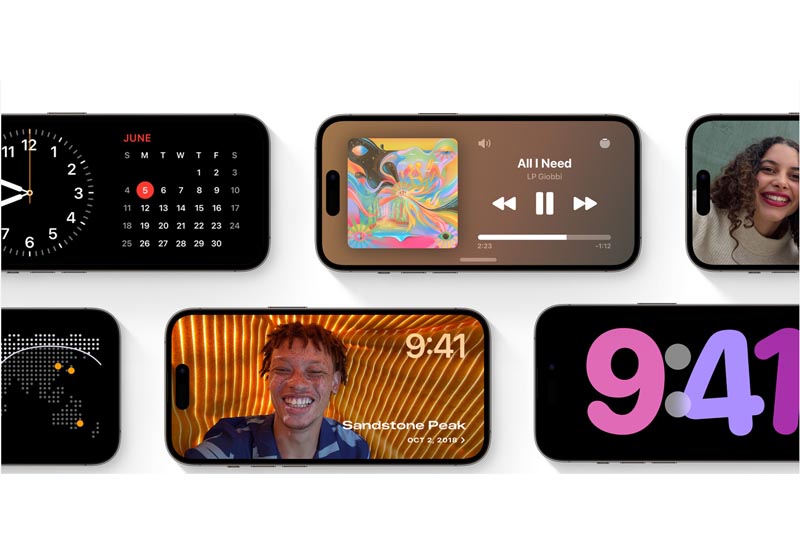 How to Use and Customize Standby iOS 17 turn your iPhone into a Smart Display
Personalized Clock Styles and Photos
Standby supports five different clock styles to match your personal tastes or environment. It can also automatically display your favorite photos or a specific album, effectively turning your iPhone into a digital photo frame.
Contextual HomeKit and Widget View
In addition to photos, you can add widgets for calendar events, HomeKit controls, and other useful information to Standby. This transforms your iPhone from a cold pane of glass into an intelligent life assistant.
MagSafe Standby
MagSafe Standby offers personalized views for different charging positions. Enjoy family photos in the living room or easily glance at the time by your bed – no reconfiguration needed.
Check-In: One-Tap Safety Notifications
The updated Messages app gains new features like live transcriptions, location sharing, and swipe to reply. But one of the most notable additions is the new Check-in functionality.
Notify Your Contacts When You Safely Arrive
If you're concerned about safety during a late night ride, try the new "Safe Arrival" feature. It automatically sends a message to chosen contacts when your navigation ends, notifying them you've safely reached your destination.
Get Help If You Don't Respond
If you don't arrive on time or respond to prompts, your emergency contacts will promptly receive your real-time location, phone signal strength, battery level, and other critical information. Check-in provides peace of mind.
Stickers: Expressive Messaging Comes to Life
In the era of abundant sticker packs, stickers have become a unique visual communication method beyond just text.
Animated Stickers Generated from Photos
iOS 17's live stickers feature leverages AI to accurately identify faces and objects in photos, generating animated stickers. You can get creative by adding glow, doodle, and other effects.
Expanded Sticker Options
The variety of available stickers in iOS 17 has greatly expanded thanks to Apple's own new packs and simplified third-party integration. Finding and using stickers is easier than ever.
AirDrop: Instant Sharing Nearby or Far Away
AirDrop, the fastest file transfer method between Apple devices, gains new functionality with NameDrop in iOS 17.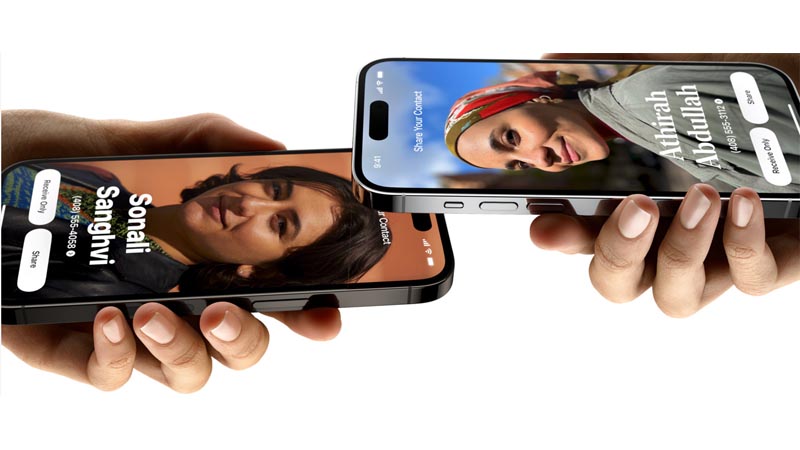 Exchange Contact Info with a Tap
To exchange contacts with a new friend, simply tap phones together to instantly share info like phone numbers, email addresses, and Contact Poster. NameDrop also works with Apple Watch.
AirDrop now uses internet connectivity to share files and photos even when you're not in close proximity, you and friends can pick up file transfers seamlessly when you're miles apart.
Journal: Your Personal Private Diary
Later this year, iOS 17 will introduce a brand new Journal app, allowing you to chronicle everyday moments and special life events in a private diary.
AI-Powered Moment Suggestions
Based on your photos, locations, music, activities, and more, your iPhone will generate personalized memory highlights worth journaling. Each suggestion includes a writing prompt.
Locked End-to-End Encrypted Entries
Importantly, Journal utilizes on-device processing and end-to-end encryption. Apart from yourself, no one else can access your diary – not even Apple.
The major updates in iOS 17 spotlight Apple's focus on highly personalized, expressive communication paired with proactive intelligence to surface meaningful memories and experiences. iPhone users will have richer tools than ever to capture life's many moments.
EDITOR PICKED:
Apple iOS 17 With New Features and Changes to Communication and Collaboration
iOS 17 Tiny Features with How To: Eye Distance Reminders and Offline Maps Downloads