Leading technology market research firm TechInsights has published optimistic projections for the recently launched Huawei Mate 60 series smartphones.
TechInsights notes Huawei's brand recovery in Q2 2023 with 28% growth driven by loyal followers in China and emerging markets. They predict total 2023 shipments reaching 35 million units, a 36% increase year-over-year.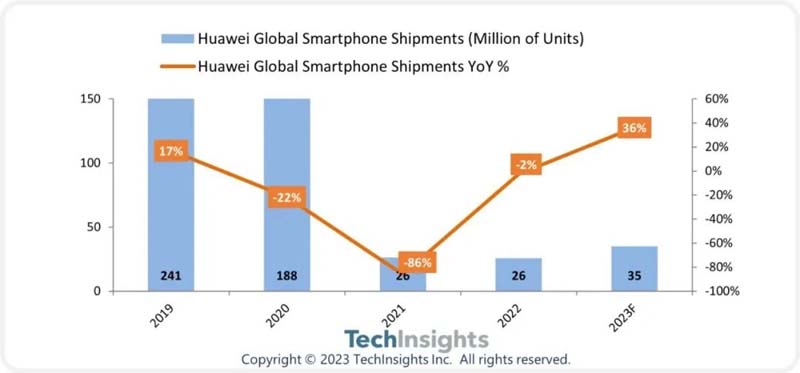 The Mate 60 Pro is forecast to ship over 1 million units in China this year, surpassing its predecessor Mate 50 Pro. Across the two-year Mate 60 lifecycle, TechInsights expects 5-6 million units shipped.
Prices start at 5,499 RMB for the standard Mate 60 and 6,499 RMB for the Pro model. Huawei Mate 60 Pro+ (Huawei Mate 60 Pro+ Kirin 9000S Now Available for Pre-Order) and foldable series Mate X5 are now available for pre-order in China (Mate x5 opened pre-orders), hinting at strong initial demand.
Huawei Mate 60 Pro+ nanoscale dual-tone metal back panel as a key design feature. It also upgraded receiver and camera specs. The entire Mate 60 and X5 lineup utilizes Huawei's Kirin 9000S processor.
Noted analyst Ming-Chi Kuo predicts 2023 growth of 65% for Huawei, reaching 38 million smartphone shipments. He forecasts over 60 million units shipped in 2024, making Huawei the brand with the strongest growth momentum.
Specifically for the Mate 60 Pro, Kuo says pre-order demand has exceeded expectations by 20%. He projects at least 12 million units will be sold in the first 12 months.
With experts optimistic about Huawei's smartphone rebound, the Mate 60 series looks positioned to drive significant growth. Its competitive specs and Huawei's reputation in China should translate to strong user adoption.