According to user reports, BMW's in-car wireless charging pads are causing NFC chip failures in the iPhone 15 Pro models. Owners are advised to avoid charging their new iPhone 15 in compatible BMW vehicles to prevent potential damage.
Apple Confirms iOS 17 Bug Causing iPhone 15 Pro Overheating
Complaints on forums and social media indicate the issue arises after using BMW's integrated wireless charging. Affected iPhone 15 Pro get stuck in data recovery mode with a white screen and become unable to reboot properly.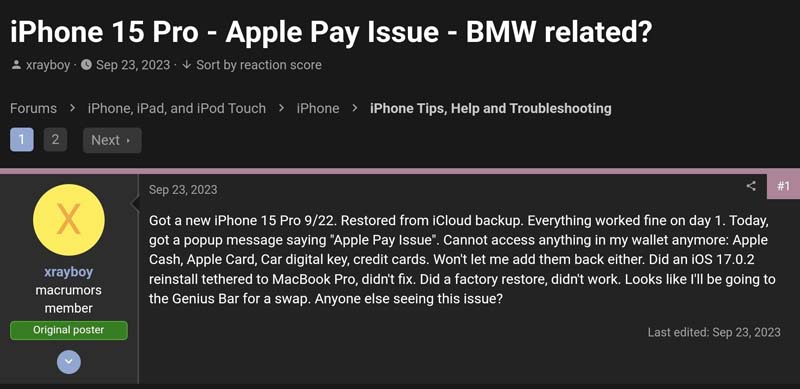 Once restarted, the iPhone's NFC chip – used for Apple Pay and digital car keys – stops functioning entirely. Users encounter "Unable to set up Apple Pay" errors when attempting mobile payments.
Some owners have had their iPhone 15 replaced by Apple after confirming the NFC chip malfunction. But frustration abounds as even the replacement iPhone experience the same charging-related failure.
While most confirmed cases involve iPhone 15 Pro and Pro Max, standard iPhone 15 models could also be impacted. All iPhone 15 owners should refrain from BMW wireless charging until a fix is determined.
The NFC hardware itself does not appear faulty. Rather, something related to BMW's inductive charging mechanism bricks the NFC chip's functionality. A future software update may be able to prevent the issue by adjusting charging behavior.
But for now, using old-fashioned wired CarPlay or plugging into the USB-C port remain the only safe options for charging an iPhone in BMW vehicles. Wireless charging comfort simply isn't worth the complete loss of Apple Pay and digital key capabilities.
Hopefully Apple and BMW can compare notes and pinpoint whether the fault lies with iPhone engineering, charging pad design, or some combination. Until then, owners are right to be wary about this emerging and inconvenient iOS compatibility problem.
EDITOR PICKED:
iPhone 15 Series: A Buying Guide That's as 15 or Pro, Pro Max