iOS 17 has finally arrived, and along with exciting new features like updated lock screens and wallpapers, it also brings a highly anticipated update: contact posters. The call display in iOS 17 is highly customizable and full of personality. Despite focusing on revolutionizing traditional communication tools, this update offers users a new way to express themselves, just like the iOS 16 wallpapers.
By creating contact posters on iOS 17, you can now display your customized business cards when someone answers your call, and you can also manually create posters for other people's incoming calls. The new version of the call display takes up the entire screen, making a strong visual impact.
Creating call posters is as easy as building with blocks. Apple provides three poster templates in iOS 17: photo, Memoji, and letter patterns. The process of customizing call posters is similar to customizing wallpapers. Each template allows you to customize the background style and color, text font, color and thickness, image position, and size using slider-based customization. Combined with Memoji or photos, your poster will be unique. Additionally, the feature that automatically detects the foreground of the photo is retained, creating a stronger design unity for the entire system.
The posters have a strong poster-like feel, and the minimalist letter pattern also has a hidden feature. When you tilt your phone, the letter will have a glossy effect similar to the Apple Card due to the gyroscope's deviation. After editing, the poster will be displayed in the contact interface of the address book in a large format, and it will also be displayed on the recipient's phone when you call someone.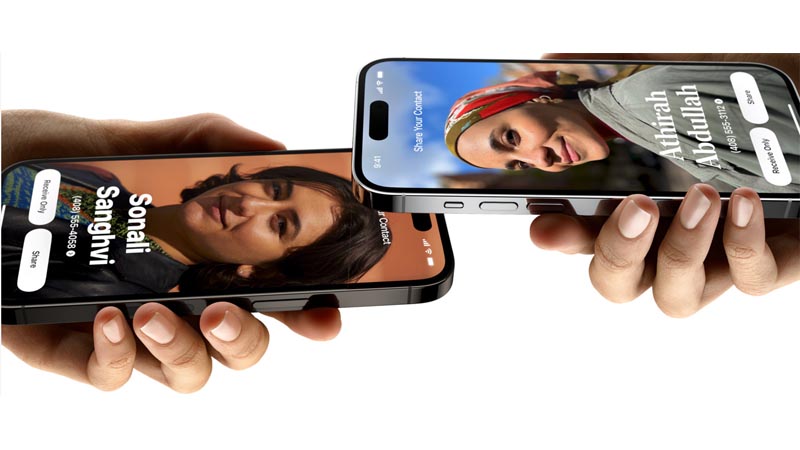 To get started with contact posters on iOS 17, you'll need to first install the update and open the Contacts app. From there, follow these steps:
Tap the "My Card" icon at the top of the screen.
Tap the "Contact Photo & Poster" button.
Enable the "Name & Photo Sharing" toggle.
Tap the "Edit" button.
Tap the "Customize" button and select the poster option you want to use (camera, photos, memoji, or monogram).
Customize the text, images, and backgrounds to your liking. There are plenty of options to choose from, so take your time to find the combination that works best for you.
Once you're happy with your poster, tap "Done" to save it.
If you want to add or switch your contact poster to the Contacts app, simply tap the "Contact Photo & Poster" button again and tap "Edit". From there, you can swipe to the far right side to create a new poster or swipe to the one you'd like to use a different one. Keep in mind that if you're not with the person you're creating a poster for and don't have a picture of them on your iPhone, you won't have as many options to create a contact poster.
Customizing Your Contact Poster
The beauty of the contact poster feature on iOS 17 is that it allows for a high degree of customization. Here are some tips for making the most of this feature:
Choose a template that suits your style: iOS 17 offers four poster types to choose from: camera, photos, memoji, and monogram. Each template has its own unique look and feel, so choose the one that best suits your personal style.
Experiment with text: When customizing your poster, you'll have the option to add text in various fonts, sizes, and colors. Play around with different combinations to find the one that looks best to you.
Be creative with images: Whether you're using a photo of yourself or another image, there are plenty of options for customizing the look of your poster. You can adjust the position and size of your image, as well as choose from a variety of backgrounds.
Save multiple posters: iOS 17 allows you to save multiple contact posters, so don't be afraid to experiment and create different looks for different people. To switch between posters, simply tap the "Contact Photo & Poster" button and choose the one you want to use.
FAQs:
Q: Can I use any image for my contact poster?
A: Yes, you can use any image you have saved on your iPhone or take a new one using the camera.
Q: Will my contact poster be visible to everyone?
A: No, your contact poster will only be visible to people you have enabled the "Name & Photo Sharing" option for.
Q: Can I change my contact poster at any time?
A: Yes, you can change your contact poster at any time by following the steps outlined above.
The new contact posters in iOS 17 allow you to showcase your personality and express yourself like never before. Creating unique contact posters for friends and family is a fun way to stay in touch – even when you're not on the phone! Make the most of this new feature in iOS 17, you can make your phone feel more personal and unique. So why not give it a try and see what creative combinations you can come up with?
WWDC23 Editor Picked:
Apple Unveils the Vision Pro: A Game Changer in Spatial Computing
Apple iOS 17 With New Features and Changes to Communication and Collaboration
Apple Watch Takes Health to the Next Level with watchOS 10!
Unlocking iPadOS 17: Personalized Lock Screens, Interactive Widgets, and More
Apple macOS Sonoma Update Interactive Desktop Widgets, Safari, Video Conferencing