iPad has long been a favorite device for those who need a powerful and portable computer. Its sleek design, excellent performance, and versatile functionality make it an ideal choice for professionals, students, and creative types alike. However, one area where the iPad has always had room for improvement is multitasking and external display support.
With the release of iPadOS 17 (Unlocking iPadOS 17: Personalized Lock Screens, Interactive Widgets, and More ), Apple has made significant strides in refining these features and making them more user-friendly. here's iOS 17 widgets and multitasking experience, take a closer look at some of the new features of iPadOS 17, including widgets on the lock screen, multitasking modes, window size adjustment, and external display support.
Widgets on the Lock Screen
One of the most significant changes in iPadOS 17 is the ability to add widgets to the lock screen. This means that you can access your favorite widgets without unlocking your iPad, providing you with quick and easy access to the information you need.
Widgets can be added from both portrait and landscape orientations, and they can be independently configured for each mode. In landscape mode, widgets appear on the left side of the screen, taking up a lot of space and providing users with large square widgets on the lock screen for the first time. In portrait mode, widgets appear in the same location as iOS, just below the time, with limited space. The font for the time on the lock screen can now be customized in terms of boldness, giving users complete control.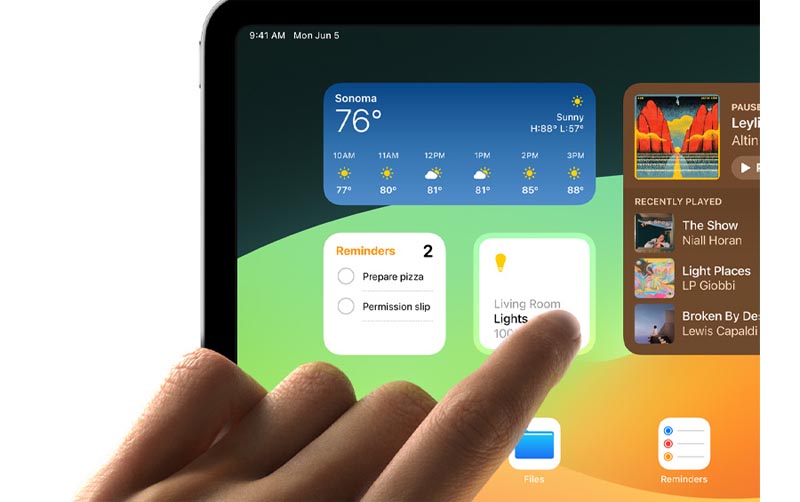 Multitasking
The multitasking capabilities of iPadOS have long been criticized for their confusing logic and complex operation. With the updated "Multitasking and Gestures" settings in iPadOS 17, Apple has addressed these concerns and made multitasking much easier to use.
The new multitasking menu allows you to quickly switch between three modes: Close, Split View and Slide Over, and Foreground Dispatch. When multitasking is closed, the iPad can no longer run multiple app windows on one screen, which can be helpful for those who prefer a simpler interface. Foreground allows for more flexible window placement and more finely adjusted window size. On the 12.9-inch iPad Pro in landscape mode, app windows can be adjusted to 7 levels horizontally and 5 levels vertically. Window size can be adjusted based on the app, device used, and screen resolution.
Window placement no longer behaves as aggressively as it did in iPadOS 16, where the position of other windows would automatically adjust as a user moved one window. Instead, more overlapping windows are allowed, and windows no longer hide behind each other. This makes multitasking on the iPad more intuitive and user-friendly.
External Display
Support for external USB cameras, including the Studio Display Webcam, is now available on iPads running iPadOS 17 and later. This means that any iPad model with a USB-C port can now use the built-in camera on the Studio Display and other external displays for FaceTime calls and other video-related activities.
Exciting new features of iPadOS 17 is the enhanced support for external displays. The camera on an external display can now be used on the iPad, which means that FaceTime calls or video conferences can be made directly from the camera on the external display. Regular external USB cameras can also be used, meaning hardware devices such as capture cards can be connected.
However, there are still some limitations to external display support. For example, it is still not possible to control the volume of an external display with the iPad or select the iPad as a sound source. Additionally, it is not possible to use an external display while the iPad is locked or the screen is turned off. These limitations may be frustrating for some users, but they are a sign that Apple is continuing to refine and improve this feature.
iPadOS 17 is a significant step forward in refining the logic of multitasking and external display support. While there are still some limitations to external display support, iPadOS 17 at least shows that Apple is continuing to refine and improve this feature.
WWDC23 Editor Picked:
Apple iOS 17 With New Features and Changes to Communication and Collaboration
How to Make the Most of iOS 17 Contact Poster Feature on Your iPhone
How to Use and Customize Standby iOS 17 turn your iPhone into a Smart Display
Apple Watch Takes Health to the Next Level with watchOS 10!
Apple macOS Sonoma Update Interactive Desktop Widgets, Safari, Video Conferencing